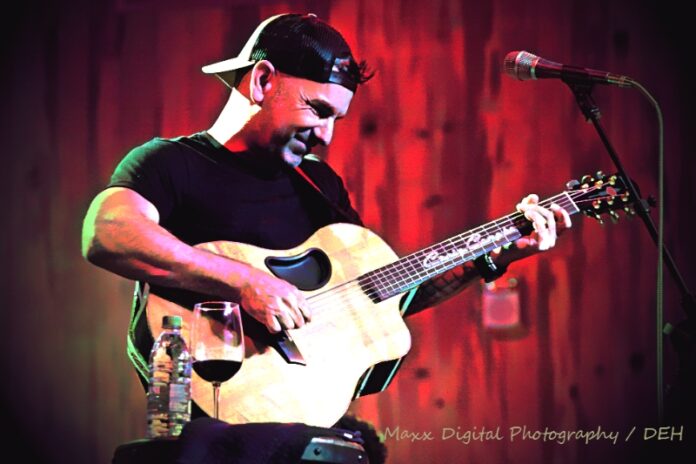 Country artist Craig Campbell made his stop in Colorado Springs, Wednesday night at the Bourbon Brothers Boot Barn Dance hall and Saloon, one of the classy places to hang your hat and kick up your heels, catch a great show and have some delicious food. Campbell performed an acoustic set to a crowd of little over a 100 people according to Mrs. Acosta event coordinator for the Bourbon Brothers, the place was filled with a great energizing that we all needed to get out and enjoy life as we sometimes forget the freedoms we have.
I didn't know what to expect seeing Mr. Campbell for the first time, so let me tell you that I was impressed for an acoustic show, from the song list he performed of his chart-topping songs, like Family Man, Fish, Outskirts of Heaven, and for the first time an acoustic version of Upstairs, which you can find on his third released EP, See You Try. Mr. Campbell, while sipping on some Chardonnay, took time to add a get-to-know-Craig moment, from the stories that he shared from the road that have happened over the years and I would tell you but, it just sounds better coming from Craig himself and of course, a night wouldn't complete without a Sing-a-long .. you just had to be there!
Mr. Campbell first was born in Lyons, GA, and has the passion and determination to keep on pushing towards the dream of being a country singer that began at 15 years of age when he tried out for a contest that was sponsored by True Value Hardware, and three years later at the age of 18, he won it again.
In 2010 Mr. Campbell released his debut single Family Man and peaked at #14 and his second single Fish reached number #23 in October 2011. Mr. Campbell has released three Eps, his latest Ep was released in June 2018, titled See You Try. This is loaded with chart-topping hits and if you haven't got this one or all three, you are missing out on a very talented singer and songwriter.
Well Mr. Campbell you have a new follower, a fan, and a friend as I look forward to seeing you on the road again, please travel safely. God Bless you and Family!!