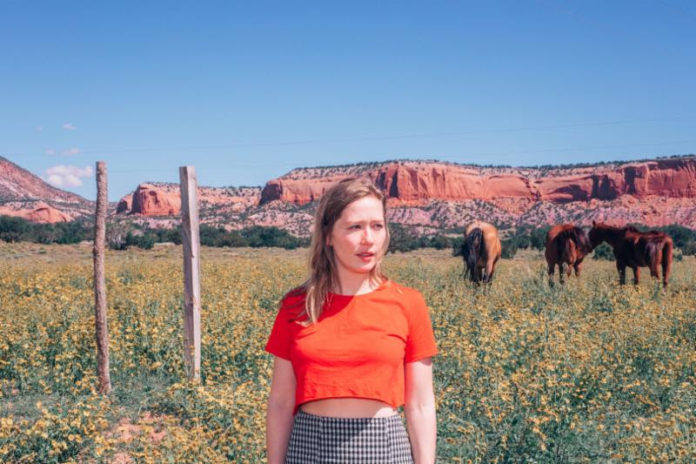 The second full-length album from Australian singer/songwriter Julia Jacklin, Crushing, embodies every possible meaning of its title word. It's an album formed from sheer intensity of feeling, an in-the-moment narrative of heartbreak and infatuation. And with her storytelling centered on bodies and crossed boundaries and smothering closeness, Crushing reveals how our physical experience of the world shapes and sometimes distorts our inner lives.
Today she has released a new song titled "Head Alone", Jacklin tells "I wrote most of 'Head Alone' on tour, singing it to myself, looking out the window on endless car journeys. It's not a song that comes from a singular experience. It came from two years of feeling like the space around me shrinking to the point where I couldn't even raise my arms. This song is me raising my arms and running into an open field. A bit of a plea to those around me to give me space and a song to remind myself that's it's okay to enforce boundaries, the good people in your life will listen, adapt and still love you."
The follow-up to her 2016 debut Don't Let the Kids Win, Crushing finds Jacklin continually acknowledging what's expected of her, then gracefully rejecting those expectations. As a result, the album invites self-examination and a possible shift in the listener's way of getting around the world—an effect that has everything to do with Jacklin's openness about her own experience.
"I used to be so worried about seeming demanding that I'd put up with anything," says Jacklin. "Now I've gotten used to calling out things I'm not okay with… I've realized that in order to keep the peace, you have to speak up for yourself and say what you really want."
 Crushing is out February 22nd on Polyvinyl and can be pre-ordered here.
Upcoming World Tour Dates
11/27 – London, UK @ Omeara [SOLD OUT]
11/28 – Manchester, UK @ YES [SOLD OUT]
11/29 – Glasgow, UK @ Glad Cafe [SOLD OUT]
12/29 – Woodford, Australia @ Woodford Folk Festival
02/21 – Perth, Australia @ Perth Festival
02/27 – Christchurch, New Zealand @ Blue Smoke
02/28 – Dunedin, New Zealand @ Refuel
03/01 – Auckland, New Zealand @ Hollywood Cinema
03/02 – Wellington, New Zealand @ San Fran
03/05 – Wollongong, Australia @ UOW Unibar
03/06 – Canberra, Australia @ ANU
03/09 – Brisbane, Australia @ Triffid
03/08 – 03/11 – Adelaide, Australia @ WOMADelaide
03/14 – Melbourne, Australia @ Forum Theatre
03/15 – Sydney, Australia @ Metro Theatre
03/16 – Newcastle, Australia @ Cambridge Hotel
03/26 – Brighton, UK @ Haunt
03/27 – Bristol, UK @ Fleece
03/28 – Birmingham, UK @ Castle & Falcon
03/29 – Manchester, UK @ Yes
03/30 – Dublin, Ireland @ Whelans
04/02 – Glasgow, UK @ Stereo
04/03 – Leeds, UK @ Belgrave Music Hall
04/04 – London, UK @ Electric Brixton
04/05 – Paris, France @ Les Etoiles
04/08 – Brussels, Belgium @ AB Club
04/09 – Amsterdam, Netherlands @ Paradiso-Noord
04/10 – Cologne, Germany @ Blue Shell
04/11 – Hamburg, Germany @ Molotow Sky Bar
04/12 – Copenhagen, Denmark @ Vega
04/15 – Berlin, Germany @ Privatclub
04/16 – Munich, Germany @ Milla
04/17 – Zurich, Switzerland @ Bogen F
04/24 – New York, NY @ The Bowery Ballroom #
04/25 – Philadelphia, PA @ Johnny Brenda's #
04/26 – Allston, MA @ Great Scott #
04/27 – Montreal, QC @ Bar Le Ritz PDB #
04/28 – Toronto, ON @ Horseshoe Tavern #
04/30 – Washington, DC @ DC9 #
05/01 – Richmond, VA @ Strange Matter #
05/02 – Carrboro, NC @ Cat's Cradle Back Room #
05/06 – Nashville, TN @ Third Man Records #
05/08 – Chicago, IL @ Schubas Tavern #
05/09 – Minneapolis, MN @ 7th Street Entry #
05/10 – Omaha, NE @ Reverb Lounge #
05/11 – Kansas City, MO @ recordBar #
05/13 – Denver, CO @ Larimer Lounge #
05/14 – Salt Lake City, UT @ Urban Lounge #
05/17 – Vancouver, BC @ Fox Cabaret #
05/18 – Seattle, WA @ Tractor Tavern #
05/19 – Portland, OR @ Mississippi Studios
05/21 – San Francisco, CA @ Swedish American Hall
05/23 – Los Angeles, CA @ Teragram Ballroom
06/03 – Dallas, TX @ Club Dada
06/04 – Austin, TX @ Barracuda (Indoors) #
06/05 – Houston, TX @ White Oak Music Hall (Upstairs) #
06/06 – New Orleans, LA @ Gasa Gasa #
# w/ Black Belt Eagle Scout