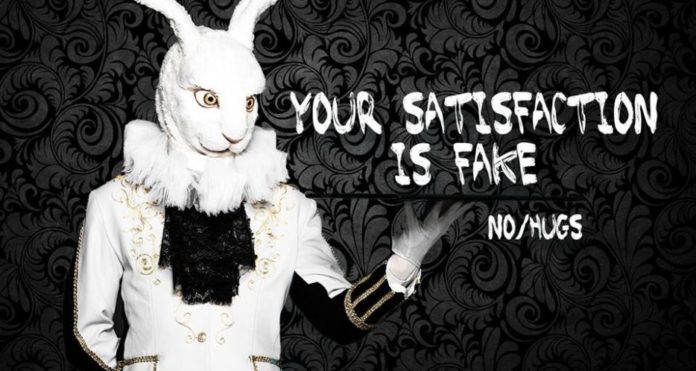 No/Hugs push hard conversations and deep messages in your face with their bold new single and edgy sound. Handpicked by Kevin Lyman to open the entire Mansfield Vans Warped Tour on the Full Sail University Stage, No/Hugs debuted their new
single "Your Satisfaction is Fake"  on Friday 07.27.Fresh off releasing their new single, "Your Satisfaction Is Fake", on the final run of Vans Warped Tour, No/Hugs continues to make their mark in the music scene.  Transitioning into a more alternative pop/punk sound and not willing to back down on the hard conversations, No/Hugs makes it a point to continue discussing issues within our society. Through their single, they touch upon issues such as depression and suicide with a much needed focus on the LGBTQIA community.
Alongside their single comes a dynamic video that follows the storyline of two trans teenagers on the verge of breaking down because they live in a society that won't accept them. In order to keep surviving, people use "masks" to conform and hide their true identity. "Your Satisfaction Is Fake", is an outcry for the need of emotional freedom and individuality, as well as a prompt for the viewers to unmask themselves by welcoming vulnerability and openly communicating their emotional discontentment. Warped Tour veteran and ex Trophy Wive's guitarist, Chris Piquette signs the mixing/mastering and recording of the song at No Boundaries Studios.
A mix of polished alternative rock and pop/punk makes Boston's No/Hugs one of the most unique bands to catch. Comprised of primary members Nascissus A-Ngel (vocals) and Kat Dukeshire (drums), the band delivers absolute madness on stage with high-energy arrangements and bold performance.
Prepping for a year of touring, they hit the road in September for the first leg of their East Coast tour as they are currently in studio writing their first full-length album.
Click here to watch and listen to Your Satisfaction Is Fake.
Connect below:
www.facebook.com/nohugsband
www.instagram.com/nohugsband
www.nohugsband.com
www.twitter.com/nohugsband