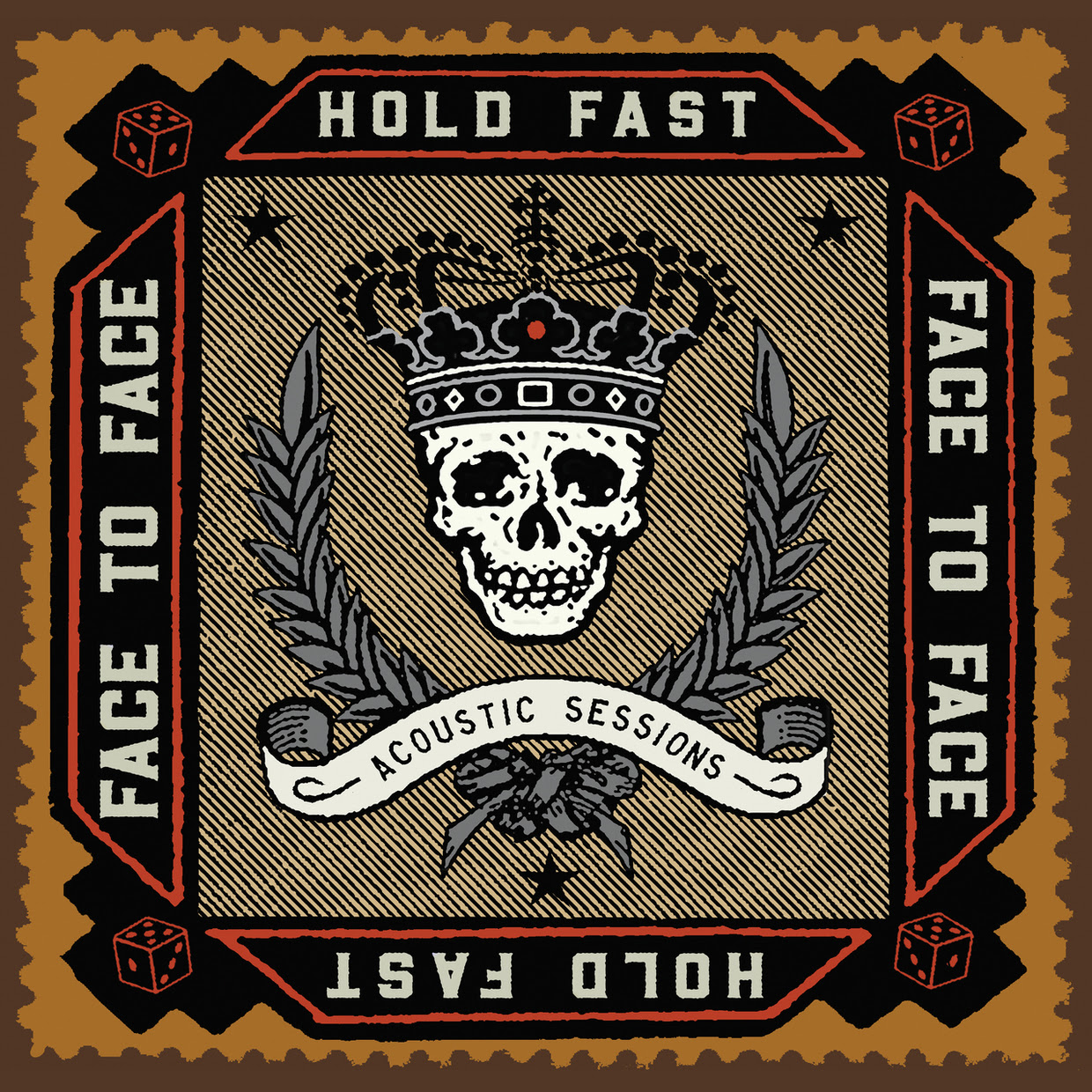 HOLD FAST (ACOUSTIC SESSIONS) AVAILABLE IN STORES AND ONLINE VIA
FAT WRECK CHORDS ON FRIDAY, JULY 27 WITH PRE-ORDER AVAILABLE NOW
"There's always been a well-written, melodically sweet pop song beneath the crunch of 'Disconnected', and that's the side that really comes through here." – Brooklyn Vegan
STREAM: "DISCONNECTED"
STREAM: "KEEP YOUR CHIN UP"
FROM HOLD FAST (ACOUSTIC SESSIONS)
Fat Wreck Chords and legendary West Coast rock band face to face have announced the band's forthcoming album, Hold Fast (Acoustic Sessions). Out on Friday, July 27 (pre-order), the album is a career-spanning collection of some of the band's signature songs, jumping from 1992's classic Don't Turn Away to the band's most recent effort, 2016's Protection, reimagined into a body of work serving as the band's first-ever acoustic album. Illustrating the sheer breadth of frontman Trever Keith's songwriting capacity, Hold Fast (Acoustic Sessions) distills these beloved tracks down to their simplest form, allowing for Keith's craft to be put on full display.  
Hold Fast (Acoustic Sessions) track listing:
All For Nothing
Disconnected (stream)
Shame On Me
Keep Your Chin Up (stream)
Velocity
AOK
Don't Turn Away
Blind
Ordinary
Bill Of Goods
Additionally, the band recently announced a full acoustic tour in support of the album. Spanning this summer and fall, the tour will take in evenings in more intimate venues across the U.S. with special guests Cory Branan and Austin Lucas appearing in select markets. face to face will also be performing with Frank Turner and Lucero at Red Rocks Amphitheatre on Friday, August 3and will be making an appearance at this year's Riot Fest in Chicago, IL from September 14-16. A full listing of dates can be found below and more information on tickets can be found on the band's official website HERE. 
Upcoming Tour Dates:
07/25/18 – Los Angeles, CA at Hotel Cafe *
07/26/18 – Santa Ana, CA at The Observatory *
07/27/18 – San Francisco, CA at Slim's *
07/28/18 – Sacramento, CA at Holy Diver *
07/29/18 – Riverside, CA at Concert Lounge @ Romans *
08/03/18 – Morrison, CO at Red Rocks Amphitheatre (w/ Frank Turner, Lucero)
09/14/18 – Chicago, IL at Cobra Lounge #
09/14/18 – Chicago, IL at RIOT FEST
09/16/18 – Pittsburgh, PA at Club Cafe #
09/17/18 – Buffalo, NY at Knitting Factory #
09/18/18 – Brooklyn, NY at Knitting Factory #
09/19/18 – New York, NY at City Winery #
09/20/18 – Asbury Park, NJ at Crossroads #
09/21/18 – Croydon, PA at Neshaminy Creek Brewing #
09/22/18 – Ithaca, NY at The Haunt #
09/23/18 – Boston, MA at City Winery #
09/25/18 – Virginia Beach, VA at Shakas #
09/26/18 – Washington, DC at City Winery #
09/27/18 – Richmond, VA at Broadberry #
09/28/18 – Atlanta, GA at City Winery #
09/29/18 – Cincinnati, OH at Northside Yacht Club #
09/30/18 – Nashville, TN at City Winery #
* – Acoustic only performance w/ Cory Branan
# – Acoustic only performance w/ Austin Lucas