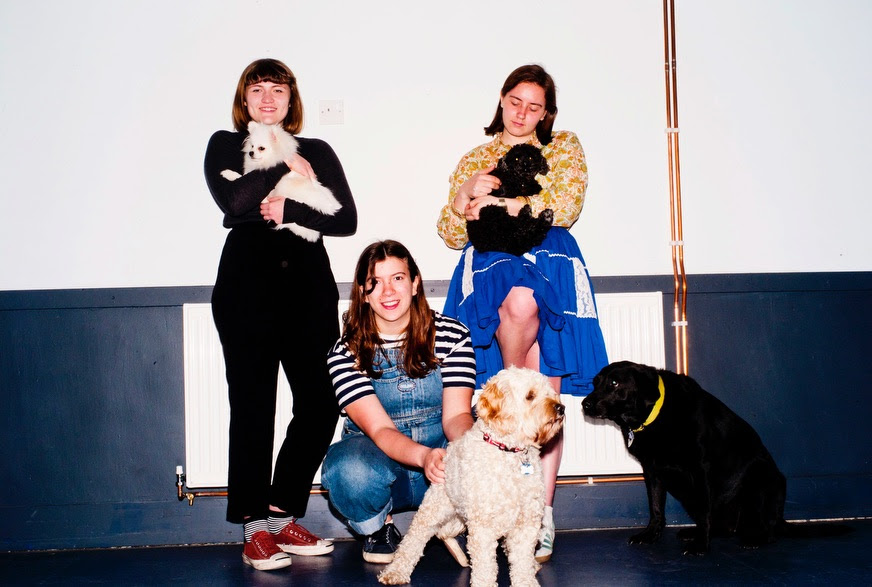 Listed as one of Rolling Stone's 20 Best Pop Albums of 2017, punk pop Girl Ray's Earl Grey has boasted attention grabbing singles like "Stupid Things," "Don't Go Back at 10," and "Just Like That."
Girl Ray are thrilled to be touring the US and Canada this spring with Porches, where they'll make stops in New York, Los Angeles, San Francisco, and Chicago, as well as Austin for SXSW 2018. Their recently released debut album, Earl Grey, was met with much critical acclaim. The 405 hailed it as a "confident and stylish debut," while The Boston Globe praised the record as "a thrilling, curious debut rife with hooks and sugarspun melodies." Stay tuned for further announcements and releases from this aptly self-described "Girl Power Trio."
What the critics are saying:
"…subtle, winsome songs about teenage romance and youthful angst." – Pitchfork
"lo-fi pop of teen romance with nods to 70s balladry" – The Guardian
"The idea that actual teenagers made an album this sharp and sophisticated and interesting is the kind of thing that should make the rest of us feel bad." – Stereogum
"…gauzy intertwining vocals and gentle instrumentals cushion the blow of their more biting lyrics." – Rolling Stone
Girl Ray will be stopping by Larimer Lounge Feb 26 as they support touring band Porches, get tickets HERE!
[youtube https://www.youtube.com/watch?v=fBvh2rW7750&w=560&h=315]
Listen to "Trouble" on Bandcamp
Listen to "Stupid Things" on Bandcamp
Listen to Earl Grey via Bandcamp, Spotify, or DISCO
Girl Ray are the sound of that uncertain period in everybody's life when the rest of it starts to loom large, when feelings are felt more intensely than ever before, and when every decision seems like a fork in the road on your way to adulthood. Being a teenager is a crucible of heightened emotions and transformative confusion from which the "real" you will ultimately emerge, having fallen in love (and out again), outgrown friendships you thought would last forever, and changed in ways you never thought possible. What you typically won't emerge with, however, is a debut album as richly evocative of the experience as Earl Grey.
Poppy Hankin (Guitar/Vocals), Iris McConnell (Drums) and Sophie Moss (Bass) formed Girl Ray two years ago, when they were still just 16 years old. Aptly enough for a band so young, they owe their existence – at least in part – to a School of Rock-style club Poppy and Sophie signed up for at their North London secondary school. "I think we all expected it to be really fucking epic," laughs Sophie, "but unfortunately no one was there, there was no Jack Black figure leading us, there weren't even any teachers – just us and a bunch of classical guitars. It was all very underwhelming, but the important thing was the friendships that formed out of it."
Prior to that, says Poppy, "Iris and I had tried and failed to put a band together many times over the years. I started playing guitar and writing songs at 11 because my older brother told me that was the age you had to start at if you wanted to be any good, so for a long time I was writing about silly things like school dinner ladies, or bitchy songs about friends who'd annoyed me. But when Sophie joined, that's when we finally found the right combination."
She may have started out with throwaway songs about skateboarding and school canteens, but Poppy's writing – fuelled by a diet of classic pop (ABBA, The Beatles, Todd Rundgren) and wistful, offbeat indie (Gorky's Zygotic Mynci, Cate Le Bon, Neutral Milk Hotel) – soon matured into something far more emotionally nuanced. Girl Ray are the band Belle & Sebastian's Stuart Murdoch might have dreamt up if he'd turned his hand to pop svengalidom, or the Moldy Peaches after having their mouths washed out with soap – a band whose songs document the dramas of adolescence with a wit and wistfulness far beyond their years.
When it came to their debut album, the trio turned to their friend (and now touring guitarist) Mike O'Malley, who produced both "Trouble" and "I'll Make This Fun." During the two "intense and insane" weeks they spent at Ramsgate's Big Jelly studios, recalls Poppy, "we would go to bed at night and dream of the next day's recording – we all went a bit crazy at times, but I've never given myself over so completely to something as I did when we were making the album."
The result is a record of invention and ambition, whose delicate, sun-dappled melodies dance around the inside of your skull like a flickering zoetrope of memories – some fond, others less so. Beneath the surface of its infectious Hammond organ riff, opening track "Just Like That" is about "falling so hard for someone, and getting tired of the rejection – after a while you start thinking, 'For fucks' sake, why is nothing happening?!'" Elsewhere, there are songs dealing with the enduring bonds of friendship ("Don't Go Back at Ten"), the inevitable bouts of self-loathing and self-examination that follow a breakup ("Cutting Shapes") and the absurd lengths we go to in order to feel close to someone ("Stupid Things"). Finally, there's "Waiting Ages," an elegiac lament for a friendship drifting in different directions, and a song that Sophie says, "already makes me feel nostalgic, even though it was only written a few months ago – it makes me sad to remember that time is passing."
It's an understandable sentiment from a band whose brief career to date has been lived at fast-forward, and which shows no signs of slowing down. If Earl Grey is any indication, however, it's that for Girl Ray, those fabled "best years of your life" are not behind them, but still to come.
Upcoming Tour Dates:
*w/ Porches
FEBRUARY
15 – Philadelphia, PA @ Union Transfer*
17 – Boston, MA @ Brighton Music Hall*
18 – Montreal, QC @ Theatre Plaza*
19 – Toronto, ON @ Horseshoe Tavern*
20 – Detroit, MI @ El Club*
21 – Chicago, IL @ Thalia Hall*
23 – Madison, WI @ High Noon Saloon*
24 – Minneapolis, MN @ 7th Street Entry*
26 – Denver, CO @ Larimer Lounge*
28 – Salt Lake City, UT @ Kilby Court*
MARCH
01 – Boise, ID @ Neurolux*
02 – Portland, OR @ Analog Theater*
03 – Seattle, WA @ Neumos*
05 – San Francisco, CA @ The Chapel*
06 – San Francisco, CA @ The Chapel*
09 – Los Angeles, CA @ Teregram Ballroom*
12-16 – Austin, TX @ SXSW 2018
19 – Atlanta, GA @ Masquerade – Purgatory Room*
20 – Durham, NC @ Motorco Music Hall*
21 – Richmond, VA @ Strange Matter*
22 – Washington, DC @ Black Cat*
23 – Brooklyn, NY @ Music Hall of Williamsburg*
24 – New York, NY @ The Bowery Ballroom*
Girl Ray will be stopping by Larimer Lounge Feb 26 as they support touring band Porches, get tickets HERE!