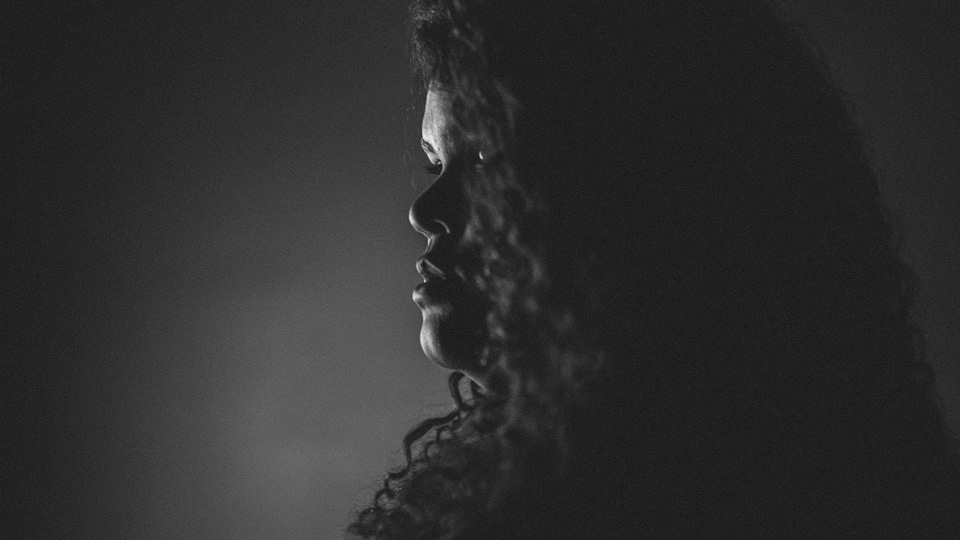 We recently discovered one of our new favorites at a local Denver DIY show at the up and coming performance space Studio 404 and were immediately bewitched. This singer/songwriter wraps the listener in the song equivalent of a warm blanket in front of a crackling fireplace in the crispness of fall. Her sultry and lush voice catapults into feeling of a different era and adds to the depth of her heart piercing and landscape painting lyricism. We know you will not only fall in love with her songs, but grow to adore her as we do; we introduce July's Spotlight Artist, Nina de Freitas.
By Veronica Lee
Nina de Freitas was born in Brazil, and was surrounded by musicians from the beginning of her life. Her father, Carlinhos Brown, is the popular career musician in Brazil and recipient of multiple Latin Grammy Awards. Her mother too, a songwriter and vocalist, is where Nina seems to gather more influence and impact from. "There was constantly music in our house, always," she recalls fondly, as she tells the story of she and her mom moving to the States when she was just 3 years old. Her memories of the music played at home were rather genre-crossing and displayed vast variety of artist to grow connected to. From Queen to Radiohead, and even The Beatles, there is one distinctive and timeless voice, that Nina discovered on her own. "I got into Fleetwood Mac on my own, I remember hearing "Landslide" on the radio and thought it was the most beautiful song I'd ever heard in my life." Stevie Nicks could easily be placed as a foundation for how she would explore her own vocal stylings and songwriting, and the comparison in likeness is magical.
Nina's earliest recollection of writing music was at the age of 4 or 5; well before she could even play an instrument, she and her Mom would imprint the songs she wrote into a voice recorder. Melodies flowed in and through her with ease until she got her first keyboard at the age of 8. While she attempted lessons, much to the chagrin of her instructors, she found that she had more fun plucking out parts and writing her own songs rather than learning the standard "Mary Had A Little Lamb" and "Hot Cross Buns." Nina then picked up the guitar at 18 and found ways to incorporate new parts into the songs she had written on the piano. To this day, Nina is still mostly self-taught.
After moving around different cities of Colorado as an adult, Nina has found a home in the southern town of Green Mountain Falls, and loves it. She is currently working as a Nanny, but the drive to focus on music is fierce, and she's been hitting Denver hard as of late. Not too long ago, though, Nina remembers a time when music was more of a frustrating labor of love rather than a project that was bearing much fruit. The love of performing was clouded by an anxiousness that things felt off track, and they were, live shows just didn't make sense.
The process of recording her debut EP, Spinning Towards the Edge, was long and arduous, taking 5 years to complete. She explains, "It was riddled with delays and obstacles, it shouldn't have taken as long as it did to be done and released." During that time, it was discouraging to be approached by people after a show, new fans asking for direction on how to access and acquire her music. The answer was nowhere. She would exclaim, "It exists, but it's nowhere you can find!" And that exasperation was overwhelming, "I didn't want to play for a while because it felt pointless to put in all that work into performing and not really be able to build a fan base." So, the music she had created laid dormant for a while, until all the work could be finished and a product was available for stream/purchase.
The patience paid off, and since the release of Spinning Towards the Edge and playing shows again, Nina and her band are reaping immediate benefits. "People are responding to the music and I have somewhere to direct them to, it feels more complete." She is building a following of fans and admirers, being met with praise and acclamation at each stop. "It blows me away to hear the feedback, and I've gotten really great emails and messages from people that were touched by the music." That, more than anything else, is what Nina feels is the most rewarding aspect of getting the music out to public. "They always have so much to say about how they connect with the songs. It might be completely different to why I connect to the songs and it's incredible to me to hear those stories."
The songs on the 4-track debut EP were written years apart from one another and recorded in such a sporadic way, with even months between tracking instruments and vocals, that Nina is already itching to get back in the studio. "I have so many songs, we really want to do a second EP asap to keep the material flowing and people engaged." With so much creativity flowing, massive amounts of new material have been written, and she feels not only a greater connection to the new songs but that they showcase more of where she is now. "The four songs, I still love them and still love playing them, but they are older songs. The oldest one is almost a decade old and I've grown as a songwriter and an artist since I've written those songs."
While the option of focusing on a full-length album is available due to the fact that there is enough completed work, that's not the direction Nina wants to take. "I just want to keep things simple as I'm introducing myself to the world." Full-length albums are something that are definitely focused on and released in more established artists, as a new artist, it doesn't seem to be the way fans prefer to absorb music. Nina knows, even for herself, that the emergence into the scene as a recording artist and performer is best laid out in bursts and stages.
"With an artist I'm just discovering, I think it's a lot easier and a lot more palpable to have a sampler of who they are. It's like a relationship, you're getting to know someone, and it's kind of a lot to be inundated with everything about them right in the beginning." Taking things slow, giving out information a little at a time and establishing a solid foundation, that's where her heart and mind are leading her. And with music being so internet focused, with streaming and social media, providing a more frequent and consistent flow of new music is more audience discovery friendly as well.
Looking forward, Nina can't help but get introspective as far as what the next EP experience could be. "I'm excited for the second one to be in a bubble," she explains. "I would love to be able to hunker down and completely enclose myself with an awesome producer and engineers and really be able to dig deep inside of myself and see what the result of that would be." Her method of songwriting usually begins with a melody she gets in her head, and frequently it will begin in the car while she's driving. Turning on a voice recording app, she will hum things out and use that as inspiration for when she can sit down and create. One particular recording may stand out and can inspire lyrics, and once those are more or less flushed out she will approach the piano or guitar to finalize parts and melodies. "Sometimes I even hear a song fully produced in my head before I start writing it," she explains.
The Spinning Towards the Edge EP began as a collection of fully written songs, with Nina having a planned and solidified idea of what each part should sound like. Having found her 3 other bandmates from church and other local bands, she was extremely pleased with how they were able to execute her ideas and they have locked in on a stable formation. Nina couldn't be more gracious and thankful, "To this moment I'm amazed that they want to play with me and that they are willing to take time out of their busy schedules to learn the songs and practice, load up their gear and drive… it brings me so much joy and I couldn't do it without them."
Intention is to begin exploring songwriting with the band for her future recordings, but it was extremely important to Nina that the first release was a solo approach. "I wanted this first introduction to be fully me," she confidently states, "I didn't want anyone to mistake me as artist I'm not or don't want to be." The EP was self-produced in order for Nina to place the marker in her signature sound and songwriting aesthetic, and now with that being established and defined she knows the right people will continue to be led to work with her in the future.
While Nina is self-managed and in charge of her own social media and booking, she has branched out and recently hired a publicist. One small step in the right direction towards musical and creative career autonomy. And some big things are on the horizon for Nina de Freitas, as she has a full band time slot at The Underground Music Showcase in Denver as well as a few other showcases in the works. Overall, though, Nina is beyond gracious and pleased to be getting her music out to the world and is pursuing her passion and dream of what can already be deemed her life's work.
Catch Nina de Freitas and the full band at The Underground Music Showcase (UMS) Illegal Pete's stage on Friday, July 28, 6pm and a solo set at The White Whale Room on Saturday, July 29, 4pm.
Artist Links: