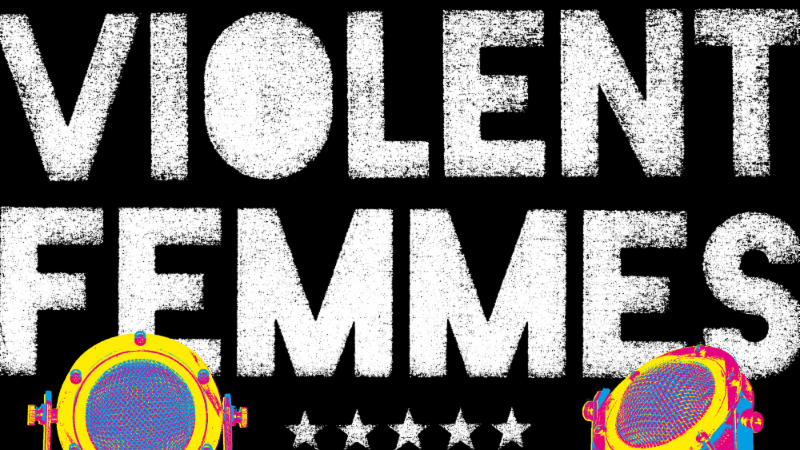 LEGENDARY AMERICAN BAND HITTING DENVER IN JULY,
RELEASING UNPRECEDENTED LIVE COLLECTION
ALL-NEW RECORDINGS REINVENT 
EXTRAORDINARY CANON OF CLASSICS,
INCLUDING "BLISTER IN THE SUN," "ADD IT UP,"
AND "GONE DADDY GONE"
NORTH AMERICAN LIVE SCHEDULE BEGINS JULY 7
IN GRAND RAPIDS, MI 
SUMMER CO-HEADLINE TOUR WITH ECHO & THE BUNNYMEN
GETS UNDERWAY JULY 11 IN PHILADELPHIA, PA
2 MICS & THE TRUTH: UNPLUGGED & UNHINGED IN AMERICA
ARRIVES VIA PIAS ON FRIDAY, JULY 7
(New York, NY) – Violent Femmes have announced details of a remarkable new collection of unprecedented live recordings. 2 MICS & THE TRUTH: UNPLUGGED & UNHINGED IN AMERICA arrives via PIAS on Friday, July 7.
2 MICS & THE TRUTH: UNPLUGGED & UNHINGED IN AMERICA sees Violent Femmes reinventing their own extraordinary canon with all-new live performances, including rearranged classics, songs played live for the first time, spontaneous requests, and random improvisations. Featuring The Horns of Dilemma, Violent Femmes' ever-evolving cabal of multi-instrumentalist backing musicians, the album was recorded last year as the band visited public radio stations and music media outlets across the country in support of their acclaimed ninth studio album, WE CAN DO ANYTHING. Always eager to push their sound forward, the Milwaukee-based combo brought with them a pair of Ear Trumpet Labs Edwina microphones, specialized bluegrass mics that allowed Gordon Gano (voice and guitar/banjo/fiddle) and Brian Ritchie (acoustic bass guitar and vocal) to play and record in close proximity. Backing musicians – including baritone saxophonist Blaise Garza and special guests like banjo master Tony Trischka and legendary Television drummer Billy Ficca – were tracked through sound bleed in the tradition of the early jazz, blues, country, rembetika, rockabilly, and folk records which informed the Violent Femmes aesthetic from the jump. Percussionist John Sparrow's innovative use of a Weber Grill as a rhythm instrument enabled Violent Femmes to stand close together around the two mics and play in perfect balance, the metallic tones meshing with Ritchie's acoustic bass and Gano's strummed guitar.
"This is the first time we've delivered a full scale recording to the public which captures the sound and spirit of the band the way we play together when we're working out songs in the hotel or dressing room," says Brian Ritchie. "This project refocuses attention upon the repertoire as a whole by stripping songs to their essentials, conveying them without artifice, and removing them from any timeline. It's the closest we've gotten to the essence of Violent Femmes."
2 MICS & THE TRUTH: UNPLUGGED & UNHINGED IN AMERICA will be available on CD, digital download, and 2 LP vinyl, with the latter edition featuring five additional songs.  A complete track listing is below.
Violent Femmes will celebrate 2 MICS & THE TRUTH with a wide-ranging North American summer tour including headline shows and a co-headline trek alongside Echo & The Bunnymen beginning Tuesday, July 11
 at Philadelphia, PA's Skyline Stage at The Mann and then continuing through early August. For complete details and ticket information, please see

www.vfemmes.com/tour.html

. 
VIOLENT FEMMES
ON TOUR 2017
JULY 11 – AUGUST 3 W / ECHO & THE BUNNYMEN
JULY
7 – Grand Rapids, MI – 20 Monroe Live
8 – Toronto, ON – Massey Hall
9 – Washington, DC – 9:30 Club
11 – Philadelphia, PA – Skyline Stage at The Mann
12 – Brooklyn, NY – Ford Amphitheater at Coney Island
14 – Asbury Park, NJ – Stone Pony Summerstage
15 – Boston, MA – Blue Hills Bank Pavilion 
17 – Pittsburgh, PA – Stage AE
18 – Detroit, MI – Meadow Brook Amphitheatre
19 – Columbus, OH – Express Live Outdoor Stage
21 – Milwaukee, WI – BMO Harris Pavilion
22 – St. Louis, MO – Hollywood Casino Amphitheatre
23 – Chicago, IL – Huntington Bank Pavilion
25 – Kansas City, MO – Crossroads KC
26 – Denver, CO – Fillmore Auditorium
29 – Costa Mesa, CA – Pacific Amphitheatre
30 – Saratoga, CA – Mountain Winery
AUGUST
1 – Portland, OR – Oregon Zoo Amphitheatre
2 – Seattle, WA – Woodland Park Zoo Amphitheatre
3 – Vancouver, BC – PNE Amphitheatre
Violent Femmes' ninth studio album and first full-length collection in more than 15 years, WE CAN DO ANYTHING (available now on
CD
,
VINYL
, and
DIGITAL DOWNLOAD
) received rapturous responses from Violent Femmes' fervent international fan following as well as from high profile media outlets worldwide. "The Wisconsin punk-folk trio's first album in 18 years occasionally summons the warped whimsy of their classic self-titled 1983 debut," offered 
Rolling Stone
, "only updated for ruined teens hitting their fifties." "Remarkably fresh and unforced," raved the UK's 
Uncut
while 
Classic Rock
declared 
WE CAN DO ANYTHING
to be "a breezy return to what they do best: acoustic folk-punk with ragged edges, held together by Gano's ear for a ringing melody." "A sprightly ten-song set which could easily stand up to anything (Violent Femmes) released in the '80s," applauded 
CLASH
, singling out "Issues" as "a lyrical feast all laid out with a sing-a-long chorus (that) will put a smile on the face of any fan." "Classic Femmes," exclaimed 
The Observer
, "tuneful, bordering on sociopathic, big on Brian Ritchie's acoustic bass."
The Line of Best Fit
decreed the album to be "a fun, nostalgic celebration of the laid-back acoustic-punk they created with their self-titled debut and 
THE BLIND LEADING THE NAKED
in the '80s… (Violent Femmes) have successfully fueled 
WE CAN DO ANYTHING
 with the scruffy-but-vibrant spontaneity that made all their earlier records the much loved works they are."