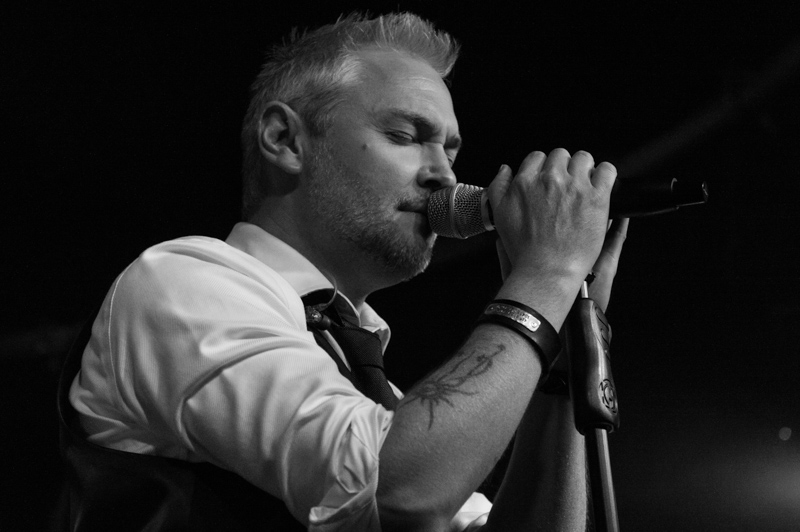 Stu Miller has been in the Denver music scene since the 90's; involved in numerous projects, seen fame and fortune, toured the country, and put his guitar playing skills on the map. Now, Miller is ready to prove he is breaking all expectations and is already taking Singer/Songwriter/Professional to the next level.
By Veronica Lee
Tavern Lowry is nestled in the Southeast Denver's sleepy neighborhood suburb; just a stone's throw from chain grocery stores and corporate latte makers, it serves up tasty beverages, salads and burgers, and hosts one hell of a Sunday Night Football. A Friday night brings in tables filled with laughter and stacked bar tabs and jumbo screens keep the entertainment at a level 10, this would be enough to offer a bit of life to the area. However, just below the surface, is a different source of hustle and bustle, an excitement and urgency of "one hour until doors." One has now entered The Soiled Dove Underground, one of the most iconic venues in town.
Walls are lined with photographs of idyllic musicians doing their thing and making history; pianists, saxophonists, guitarists, and vocalists, this lounge is the ideal setup for an adoring audience to absorb and fully submerge themselves into the music of the artists they love most. Intimate is the word that comes to mind, and this space allows for that kind of exchange. On this night, however, the room is arranged a bit differently than the usual dimly lit lounge esthetic. Front row dinner tables are removed to present a wide-open dance floor and seats are exchanged for tall tables meant to be utilized for moments of rest and a sip of a drink between dances. This room is going to get a rock show tonight; a diverse lineup headlining with Stu Miller and The Orchestra are guaranteeing it.
"This is the best sounding room in town, I love how this room plays," Miller says from the green room backstage. In this moment, 30-minutes to doors, he is playing not just band leader but also ring leader by making sure all the moving parts are still moving. On stage, run throughs of synching music with light cues, perfecting stage entrances and set tear downs, organizing band mates collaborating in other projects, arranging opening-band equipment placement and handling advanced ticket sales calculations… The list goes on and on. Backstage, though, this is simply another gig and Stu Miller keeps his cool because he's done this countless times before. "Sometimes it's a lot of work and it's really a job," Miller says. The fun part is coming soon though, the payout of weeks and months of planning, rehearsing and preparing.
"The hard part (still) is the business part; what's our bottom line tonight?" These are thoughts and questions Stu Miller never thought he'd have to prioritize and know how to answer. Having been in the Denver music scene for decades, Stu Miller has shared the stage with greats such as The Fray, Chris Young, & Michael Franti at venues all over the country, including The Mid-America Center, The Fillmore Auditorium, and Red Rocks Amphitheater. Since Miller first started playing music as a kid, his goal was to be the "Guitar God" side soloist extraordinaire; the Brian May to your Freddie Mercury, the Jimmie Page to your Robert Plant. He played in cover bands and collaborated with musicians dating back well into the 90's. Unfortunately, though, the good times didn't last forever. Miller was in a rock-bottom sort of situation; not making good money, finally calling it quits from a tumultuous relationship and living out of the back of a friend's house, it was time to make some significant changes. Having inspiration and determination, Miller decided to pursue music as the only option and pay attention to the organization of the band business. No more back up plans or doing side work to make ends meet, fronting his own band and adding singer/songwriter to his resume was the only thing left to do.
"I'm going to make this work, I'm going to make this my job!" With the proclamation then came the work, he did what was needed to get things propelling forward again. "I have a spread sheet at home" Miller jokes. "That's the hard part for me," and he admits, "that's the last thing I want to do." Yet, a necessary evil when it comes to the creative entrepreneur; the easy part would be to stay focused on the music itself. An artist's bread a butter is in what they produce, so to continue to focus on the craft and the art by writing and playing more, would be a logical place to stay. Miller disagrees and knows better, though. "You're already there, you already do that" speaking of the artist that remains in the creative space alone, "You've got to be more savvy about some of the stuff. Tonight, I kind of knew what everything was going to look like before we walked in the door. Trying to go in to things and not just go 'I'm going to let the club decide.'" Wise words any young and new musician can take and apply, learn it from someone who is out there doing it.
With the 2016 release of the album Don't Die Wondering, Stu Miller brings with him his musicianship and experience with a forward focus business-minded wisdom of what needs to be done differently this time. This album was a way for him to explore his life and to really work through some of those things that weren't going so great. "That record was going on in some weird times in my life," he explains. "My wife and I weren't getting along real well so a lot of the songs (are) on that," including the final track of the album You & Me; a song he wrote specifically for her and was the song he proposed to her with.
Songs come to Miller with a looping persistence, "If I walk around my house singing it over and over and over again, and my kids go 'Dad, shut up!' then I know I've got something." Along with 7 other musicians that take up the stage, Stu Miller and The Orchestra are a collection of artists that have been playing together in various projects over the years. With so many musicians to collaborate with, Miller feels this only enhances his songwriting and allows the opportunity for master musicians to fill the songs with body and depth. They essentially start as a shell, with Stu writing on the melodies on the guitar and focusing on lyrics. Then, he hands it over to his trusted fellow bandmates and they can take it to the next level. Orchestra members Kurt Moorehead on brass and Mackenzie Miller on fiddle give the band an entirely different direction to grow and Stu is nothing less than thrilled and complimentary in what they add and bring to the dynamic of the band.
Breaking out of the box he has been so nicely placed in to, Miller is looking to tonight at Soiled Dove to prove that his perceived limitations can be shattered beyond the expectations people may have of him. "I have a hard time getting people to pay attention to me as a singer," he says. "One of the things I have fought against in this town, especially with this project, is 'he sings, too? He's a guitar player, no no, that guy goes in the guitar player box'." He is ready to decompartmentalize the notion that Stu Miller is still Savage Henry, the guitarist of the famous local Denver band. In fact, Scott Uhl, the experimental and progressive Spiral Cell who opens the evening, is the guitar player for the band. Miller plays second to him and allows Scott to take ownership of those ripping guitar solos.
So, what's their "sound"?
"Our band is either a rock-soul-pop thing or it's a country band. It's the Colorado weather of music, if you don't like it wait three and a half minutes and the song will be over. Then, something different will happen. I have such a broad spectrum of music that I really enjoy, so having to try and narrow the field and have it all fit together is really a challenge. (And) with this great set of musicians, they can do anything too!" Miller explains and spends time praising the people he shares the stage with. Each member is complimented with ease and Miller boasts with pride in what he admires most about each bandmate and artist he collaborates with. There is a confidence in his own abilities to entertain and he enjoys sharing the spotlight with quality musicians that will work hard for the collective success.
He is the front man, but also is a rallier of sorts, with being the first one to crack a joke in times of stress or anxious anticipation.  "It's very hard for me to be taken seriously, (it's) really easy for me to deflect with humor," but one thing Miller does take to heart is the role of leader and decision maker. He feels a sincere sense of wanting to care for, not just himself, but for those around him. "If I can make this successful, I could take care of them and throw piles and piles of money at them… In my opinion, this is my extended family, if I can take care of me and my family…" that is the goal.
Ultimately, it's the music that speaks for itself though, putting focus on delivering a great show and connecting the great music to the audience. Miller understands that it's the band onstage, having fun and being free to create the art that they love, that allows the energy to exist between songwriter and audience. That is where the magic is within live music and Stu Miller and The Orchestra played and upbeat and lively show to an eager and excited audience. Providing a full-service selection, one would be hard pressed not to find a genre that suits every type of music fans taste buds. Each song they play stands alone as strong and solid, but also plays to compliment the diverse set list that is certain to take the audience on a journey. They explore rock and roll, pop, funk, country, blues, and soul; each influence is fully realized and explored in a weaving of expertise and heart. Fans on the dance floor perked up as they heard favorites from the album like Colorado Sunrise alongside unique covers of songs like Crazy by Seal. The night was a success and is sure a step in the right direction for the band and for Stu Miller, focus on the right things, put the work into what matters, and put on a great rock show. Done and done.
TAKE NOTE:
Proceeds from merchandise sales went to The Society for the Prevention of Teen Suicide.
Stu Miller's band, Tracksuit Wedding, is involved with Take Note Colorado with a benefit show coming up at 1stBank Center.