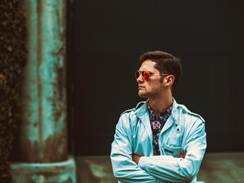 By Veronica Lee
Mile High Feedback got the chance to connect with Gabe Donnay of the LA-based band Satchmode. The band is on the road touring the release of their highly-anticipated debut album Love Hz, to be released February 7, 2017. The quartet, lead by singer/songwriter/producer Donnay, will be hitting Seventh Circle in Denver just the day before the exciting release. The first single "Happiness," is packed with propulsive synths, neon energy, and hypnotic electro pop harmonies. Read what Gabe has to say about Denver, being an artist and the recording process of Love Hz, along with something the singles of the city might be interested to know!
Mile High Feedback (MHF): In approaching your first full length studio album, what did you experience that was different than you had anticipated?
Gabe Donnay (SM): I'm surprised by how much time I spent on tracks that didn't end up making the album. There are a bunch of songs that I labored over for months before deciding to scrap them. But being patient and working through the bad ideas is essential to ending up with a cohesive final product.
MHF: Did the theme of loss and heartbreak present as you were writing and recording or was that a topic you chose to explore purposefully?
SM: For me, the best writing happens when I don't try to force a preconceived notion of what the song should be. I try to just follow the ideas wherever they lead, and hold off on worrying about how they might fit in with the rest of my work. That being said, I did know pretty early on that I wanted this album to center around those themes. So I sort of collected songs that fit in over the last few years as they came to me.
MHF: What makes Denver an exciting place to stop on your tour?
SM: We're excited to pick up some of that sweet, legalized kombucha.
MHF: What about the current state of the nation makes this an exciting or anxious time to be an artist?
SM: Anxiety is definitely the dominant emotion. I think, maybe naively, that we are still a long way from true suppression of freedom of speech. But we have taken a large, scary step down that road. The fact that it's even a topic of discussion in this country is incredible when it seemed almost unthinkable this time a year ago. Voluntary compliance and self-censorship are natural responses to authoritarian trends in government, and they will accelerate us down a slippery slope. So artists can play an important role by loudly and visibly resisting that pressure, be it real or perceived. George Orwell wrote, "If large numbers of people believe in freedom of speech, there will be freedom of speech, even if the law forbids it. But if public opinion is sluggish, inconvenient minorities will be persecuted, even if laws exist to protect them." Okay I'm stressing myself out, I need some kombucha.
MHF: What is the most fulfilling aspect of being a musician?
SM: I love the rush when you realize that you're onto something good in the studio – when you find a great hook and you're dancing around in the middle of the night with the speakers blasting.
MHF: What is the most challenging aspect of being a musician?
SM: Explaining to my grandma how to find my music on YouTube.
MHF: What would you like the people of Denver and readers of Mile High Feedback to know about you that they may not already?
SM: I'm single!
Catch Satchmode at Seventh Circle with Mating Ritual on Saturday, February 6 and be sure to check out the new music that debuts February 7!
Read our interview with Mating Ritual!
More Information on performance at Seventh Circle!