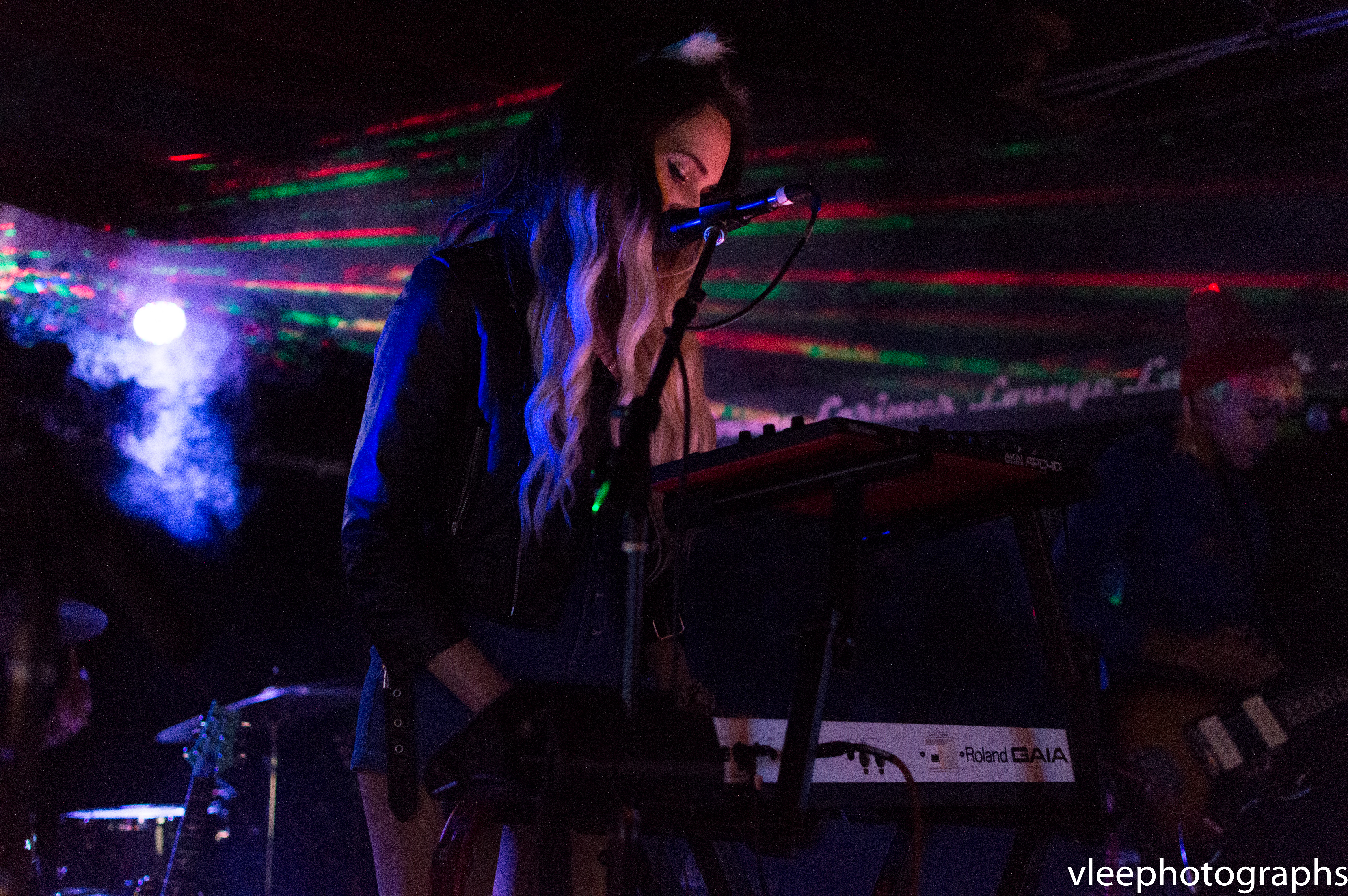 By Veronica Lee
Saturday night, in the middle of a long weekend of delectable treats and decadent desserts, Denver got another sweet treat in the form of a pop delight. Unsure as to what the turnout may be, I arrived at Larimer Lounge to find the room already buzzing with anticipation of anything other than turkey and football. Family time had worn off its welcome, to many, and we were ready to jump back in to feminist pop rock with depth, and an excellent danceable charm.
Sad13, Sadie Dupuis, was in town with a new band and a new sound, and with her previous work with Speedy Ortiz as a baseline, fans and curious onlookers were anxious to see and hear what her solo efforts had to offer. Slugger is Sadie's first record as Sad 13; not only did she write, sing and play guitar, she recorded and produced the record herself.
This is where the beauty of self-directed work and self-sufficient musicianship come in to play. The live show is just as good, if not better, then the recorded album. In her female empowerment form, the four-piece band is all female, with strength in every harmony and note. Steady beats on the drum kit lent to danceable melodies to be played on the keytar (yes, KEYTAR!) and with strong guitar and Sadie's vocals, this was definitely the night that fans were hoping would be delivered.
In between songs, Sadie would offer a bit of banter with the audience, either sharing a story about a fellow bandmate or a funny anecdote on a song to come. Not only is she talented and charismatic, she offers a sense of humility and candor to her persona. You feel like you aren't only supporting an artist you admire, but also someone you could hang out in your pjs with, share a cocktail and a funny story about a terrible date from the night before.
Not a single foot was left un-tapping and the sway and head bobbing of the audience gave back the energy that Sad13 was displaying onstage. Straight forward pop songs like Get a Yes, Line Up and Hype keep the pace while a few more quirky tunes like <2 and Devil In U add some dimension and depth rounded out a performance that kept Sadie's followers already requesting return visits and more music.
Also, not to go unmentioned, were the opening bands who lent an ambiance and wealth of talent to begin the evening. Voight, a duo project of Adam Rojo and Nick Salmon, was a last minute addition after The Savage Blush was unable to attend. Voight set the right tone with their post-punk synth pulse, hard hitting beats and pleading vocals. The local Denver band definitely walked away with a few more fans and continued promise of growth and success in this project.
And then there was Vagabon. On tour with Sad13 from NY, pure emotion was dripping from the performance, with captivating story-telling in lyric and music. There was a moment when the audience had to be asked to respectively be more quiet, so Vagabon could remain in the moment of the music and not be transported to a more self-aware state. An absolutely stunning performance of fierce strength and honest heart-open vulnerability. Keep an eye on these artists, they will both be on MHF's radar!
See more photos in the slideshow
HERE!