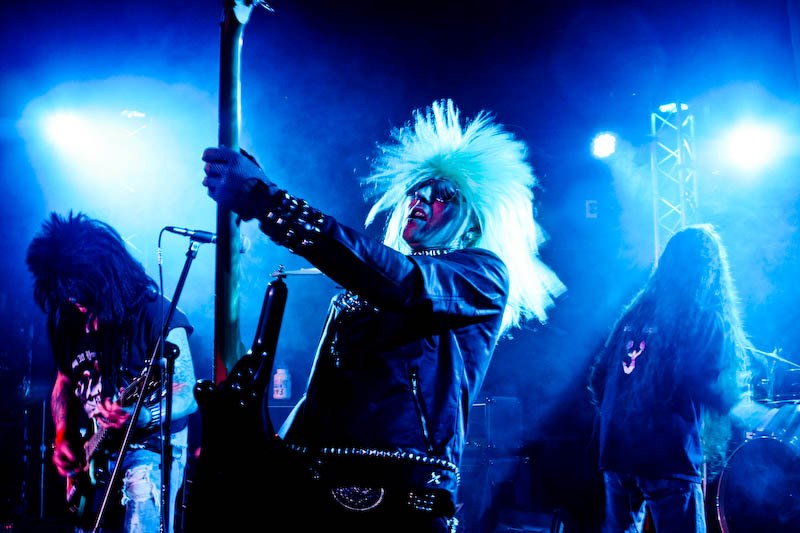 By Alan Sperry
Five local bands gathered in Lakewood for a birthday party of supernatural proportions. Each with their own style and sound. Mr. Steak was a great way to start off the night at Grizzly Rock on a snowy Friday. Mr. Steak is a band full of talented mystery artists playing 80?s Hard Rock & Metal.
Shrouded in big 80?s wigs(except for the bald drummer and the real, long hair of the lead singer),Mr. Steak is Flick Meatwood on vocals, Sir Beef Swellington on bass, Short Rib on guitar, Beef Strokin' Off on guitar, and Herbrew National on drums. Mr. Steak covered Ozzy Osbourne, Judas Priest, Megadeth, & Poison. Mr. Steak is a party band that came ready to kick off the night! You never know what they will sing, or where they might show up, but I hope you can catch them soon.
Public displays of affection aren't for everyone. The same goes for Public Display of Aggression and their Aggressive Rock/Heavy Metal. PDA is known for their hostile style and encroaching lyrics. It was surprising when the band busted out some choreographed moves, but everyone was fully entertained. Public Display of Aggression is James Aggression, lead screamer; Jimmy Shoe, lead guitar; MANiK, rhythm guitar, Dashing Kenny Daggers, bass, and Mattitude on drums.
Next up was Metal-heavy MF Ruckus, blazing the stage and helping the bar with shot sales. Toted as Rock n Roll, Blues, Southern Rock, and Soul, MF Ruckus is a tight collection of impressive musicians. You can see they are having fun while they are performing. Powerful lyrics and guitar solos are the course of action for this awesome band.
MF Ruckus is Rockstar Aaron Howell on vocals and harmonica, Jerry Cass on rhythm guitar, Logan O'Connor on bass, Ty Blosser on drums, and Parker filled in on lead guitar for the trapped-in-Chicago Tony Lee.  Catch them next Friday, March 29th, at Herman's with Reno Divorce and on April 19, with a Thin Lizzy set when they open for Hell's Belles at Oriental Theatre. Check them out at http://www.mfruckus.com.
The band with the biggest following at the venue was due up next. Lola Black impressed the legion of fans gathered up to the stage. With a mix of Punk and Metal, Lola Black continued the party with the help of their fans singing along and pumping their fists.
Lola Black took care of lead vocals, Chris Dellinger jammed the guitar, Yosh fingered the bass, Scott Kennedy filled in for Birdz on guitar, and Ryan O. Skate played the drums. Follow Lola Black at www.lolablackmusic.com.
Finishing up the night was Seraphim Shock. Shirtless and featuring bright-colored contact lenses, Charles Edwards and his band, blazed the stage with Gothic Rock/Punk Rock. Serphim Shock is Charles Edward on vocals, Greg Kammerer and Adam Vex on rhythm and lead guitar, and Tattoo Dave on bass. Follow this band at www.seraphimshock.com.