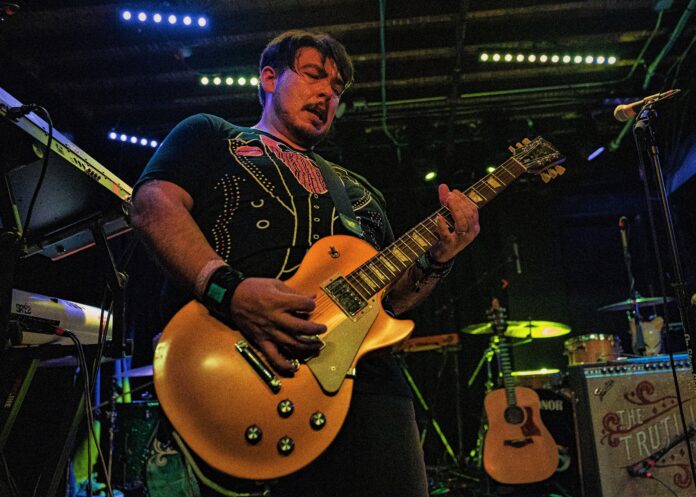 A little over a month ago I posted an article on local band The Trujillo Company.  This follow up post catches us up with the band as they are finishing their second album, and after playing their first gig since they tracked that album in late October…
It's pretty rare that I attend a show specifically to cover the opening act. But such was the case last week, when I visited Denver's Marquis Theater to catch The Trujillo Company open for Argentinian electropop/rock band Siamés.
Nothing against Siamés. Most of the packed crowd at the Marquis were there to see them, and they put on a really good show. But what those in attendance might not have expected was the incredibly strong six-song, 30-minute opening set delivered by the local boys. Judging from their reaction to that set, it would appear they were as impressed with The Trujillo Company as I was when I saw them open for Starcrawler back on October 11.
The Trujillo Company is Mike Trujillo on guitar and lead vocals, Leny Trujillo on drums/vocals, and Mark Hibl on bass/vocals. (No, Mike and Leny are not related.)  Mike and Leny have been playing together as The Trujillo Company since early 2018, and released their first album (HOME) as a duo in 2019. Mark joined the band in 2021. (For a more in-depth look at the group's history, see my Local Talent Spotlight post from November 12.)
The band's set at the Marquis included five songs from the new album (which will be called 4 Arrows and is set to drop by mid-2023), as well as their 2020 single "Follow The Leader".  Opener "Dad & Me" is about those tough relationships with the father figures in our lives.  That was followed by the title track from the new album, "Deeper & Deeper", and "Circles", which is about repetitive patterns of greed and corruption. Next came "Follow The Leader", which is always a crowd favorite. The set closed with "Down Below".  It was full tilt, from the word go.
Mike is an energetic and charismatic frontman who loves getting up close and personal with the crowd. Multiple times during a set he'll step to the very edge of the stage for solos (see photo below). Following gigs he loves to interact with the crowd as he's breaking down his rig, and at the merchandise table. As he told me after the gig, "I loved that after the set the kids from the front were asking me about my guitars and what kind of pedals I was using in my rig, because that was me at shows growing up. It's all about that connection."
Leny and Mark do exactly what a great rhythm section does… keep things tight. In Mike's words, "Leny and Mark are so tight together, and monsters of their craft." He refers to them as "the secret to our sauce".
Leny, who's a disciple of the legendary John Bonham, is an absolute beast on the drums. Fantastic timing, and exceptional power. And he looks like he's having a blast behind the kit.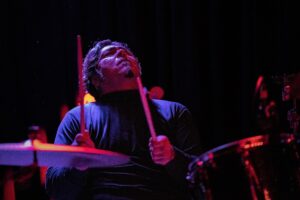 Mark provides the perfect bridge between Leny's drums and Mike's guitar. He's got the timing, tone and feel you absolutely must have for the overall band to click. He knows how to turn the stage over to Mike, but also has the right instincts to know when to step forward and share in the spotlight.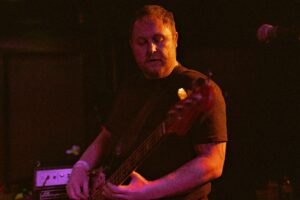 It's going to be a few months yet before the release of 4 Arrows, but the band plans to begin releasing individual songs from the album shortly after the beginning of the year. While you're waiting for that, you can check out the band on their website, www.thetrujillocompany.com.  You can listen to their debut album and subsequent singles there, or on your favorite streaming service.  You can also check out videos for a number of their tunes at www.youtube.com/thetrujillocompany.
Check them out, folks.  They are absolutely worth the listen.
Article and photos by Rick Witt   www.rickwittphotography.com