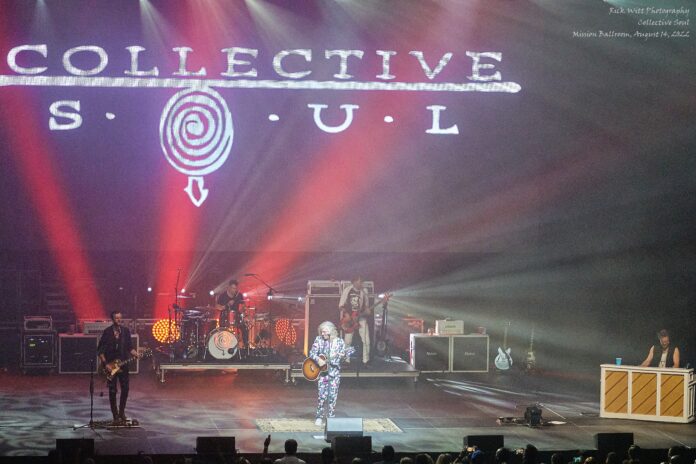 Collective Soul is one of those bands that is nearly impossible to classify as part of a single genre.  When originally formed in 1992 the Georgia-based quintet was generally regarded as a post-grunge band.  In the thirty years since, they've crossed over into hard rock, pop rock, alternative, indie, contemporary, and adult alternative territory.  Through all that crisscrossing, however, one thing has remained constant.  That's the band's ability to lay down incredibly strong and catchy hooks.  A representative Collective Soul playlist will, at a minimum, get your toes tapping and your head bobbing.  Or, more likely, it will get you on your feet, swept up in a dance frenzy.
Almost mid-way through a forty-date summer tour that started in mid-July, Collective Soul last night brought their show to Denver's Mission Ballroom.  With opening support from Switchfoot, that dance frenzy lasted close to three hours.
Switchfoot
Though technically the opening act, Switchfoot was more of a co-headliner.  They certainly have the chops and cred for that, and their set and performance showed it.  From their opening "Take My Fire" through their closing "Meant To Live", their set was ultra-high energy and interactive.  Frontman Jon Foreman led the band through a 14-song, hour and fifteen-minute set that delighted the crowd.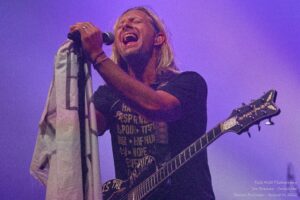 Highlights of the set included inviting an audience member onto the stage to play guitar on the song "Stars", and a walkabout by Foreman that extended through multiple songs, and included him high-fiving and embracing audience members both on the floor and on the elevated seating sections.  Foreman's extensive interaction with the crowd was both playful and sincere, as he repeatedly talked about how grateful he and the band were to be able to be in front of the crowd on this night.
Switchfoot has an exceptionally adoring fan base, and they were there in full force.  Seeing them perform live (this was my first time), it's easy to understand why their fans are so passionate.  Foreman is extraordinarily charismatic, and every member of the band presents as though they are having the times of their lives while on stage.  They truly put on a great show.
Collective Soul
The current incarnation of Collective Soul includes original members Ed Roland (lead vocals, keyboards, and guitar), younger brother Dean Roland (rhythm guitar), and Will Turpin (bass, percussion), along with Johnny Rabb (drums), and Jesse Triplett (lead guitar).  Ed Roland is the band's principal songwriter, and the combination of his writing and distinctive vocals gives Collective Soul their uniquely identifiable sound.
Taking the stage at 9:45 pm, the band spanned twenty-five years of their history with their first two songs.  The opener, "Precious Declaration" was the first song on their 1997 third album Disciplined Breakdown.  It's an absolutely fantastic opener, that stays in your head long after it's done being played.  They followed that with "All Our Pieces", the first single off their most recent album, Vibrating, which was released just days ago (August 12).  Both songs featured the classic Collective Soul hooks, and nuanced vocals, that fans have grown accustomed to over the past three decades.
Dressed in a colorful patterned suit, frontman Ed Roland was his usual frenetic self, dancing and pacing from one side of the stage to the other, toying with his microphone stand, and interacting with the crowd.  On either side of the stage guitarists, Triplett and Dean Roland took turns at classic rock star posing.  Bassist Turpin was highly animated, whether interacting with the other members of the band, or dancing in his own stage area immediately to the left of the drum kit.  Behind that kit, Rabb held everything together via excellent timing and by remaining firmly in the pocket.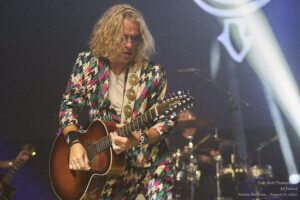 The remainder of the 15-song set moved back and forth through the band's eleven album discography.  1999's "Heavy" was followed by 1994's "Shine", before a second song from the new Vibrating album, "Undone".  New was followed by the classic, as Ed Roland introduced 2004's "Better Now", calling it the best thing that came out of his divorce nearly two decades ago.
At this point in the set, all members of the band except Ed Roland exited the stage.  Roland remained with acoustic guitar and harmonica for the solo tribute "Bob Dylan Where Are You Today".  It was a strong interlude, with Roland's vocal and playing in outstanding form.
Returning to the stage, the band worked through the second half of the set, beginning with "She Said".  It's an interesting choice to include in a live set because, although it was released as a single in 1998, it never featured prominently on any Collective Soul album.  It originally appeared on the soundtrack album from the movie Scream 2, and later as a hidden track on the 1998 album Dosage.
Another interesting set choice was a cover of R.E.M.'s "The One I Love".  Collective Soul has been including this song in their live performances for some time, paying homage to a band Ed Roland considers to be one of the most important influences in his musical career.  For this particular performance, they were joined on stage by Jon Foreman from Switchfoot, as well as Jade Jackson (who opened the evening with a short, five-song set before Switchfoot took the stage).
The set concluded with a trifecta of Collective Soul classics… "Gel", followed by "Where The River Flows", followed by "Run".  The band sometimes includes one or both of those last two songs as part of an encore, but on this evening, they ran straight through, with no encore.  It was an inspired way to close the show… the upbeat "Gel" leading into one of their heaviest rockers in "Where The River Flows", then contrasted by the melodic "Run".
To add an exclamation point to the close, the band's walk-off was one of the coolest I've seen in a while.  As "Run" ended, Ed Roland continued strumming the acoustic guitar as the other members of the band came forward, dancing and waving to the crowd.  Roland was in a zone of his own, dancing around the stage, picking up steam as the crowd applauded and cheered.  As Roland moved near off-stage, still playing, the members of the band formed a circle around him, still swaying and dancing as Roland wrapped up his animated solo.  When he finished it was just a matter of steps for the band to be off stage.  The house lights came up, and that was it.  Unique, and very, very cool, indeed.
Article and photos by Rick Witt (rickwittphotography.com)