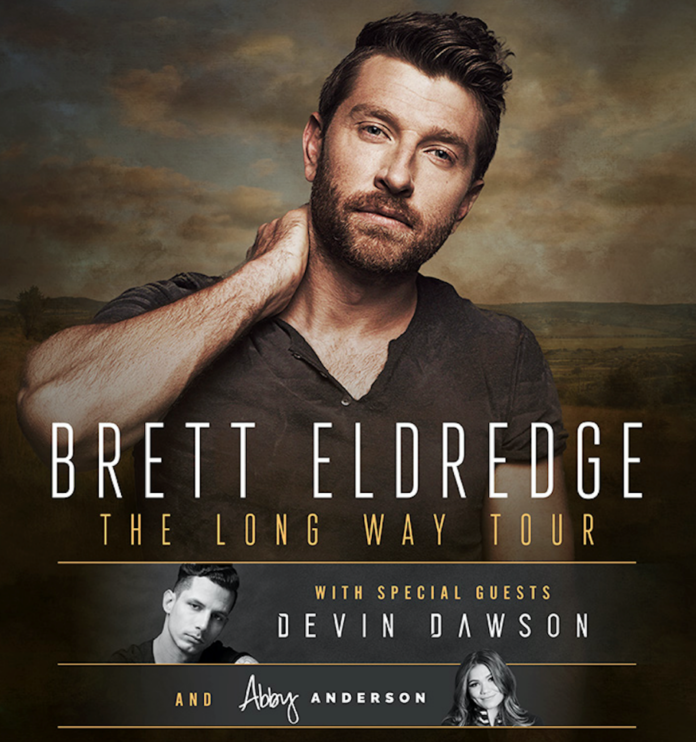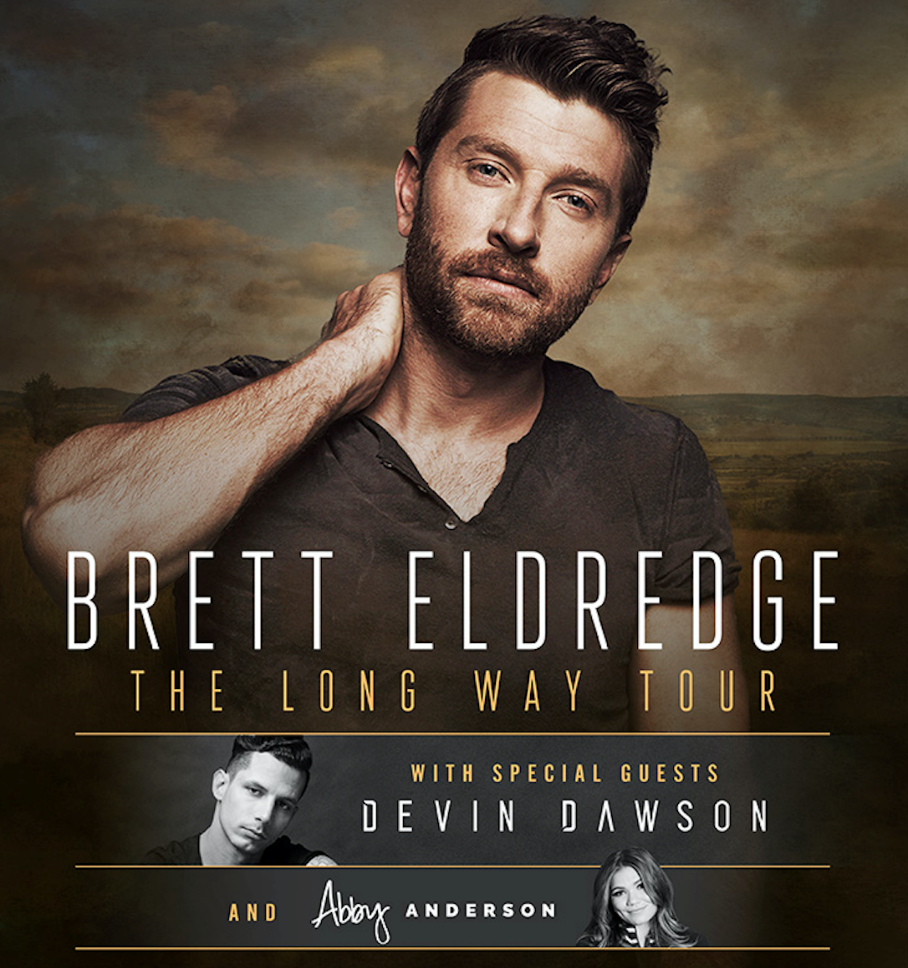 On the heels of his wildly successful debut run, platinum-selling recording artist and critically praised live performer Brett Eldredge has announced Abby Anderson will join the much-awaited fall leg of his headlining The Long Way Tour. Abby, a Pandora "2018 Country Artist to Watch," will add her signature sound to the tour.
"I am so excited to have Abby join the Long Way Tour this fall." exclaims Brett. "She has a voice that grabs you by the heart and demands you to listen. It's well beyond her years and I cannot wait to hear that golden voice every night."
The leg will kick off September 13 in Denver. The 14-city run, with more dates to be announced, will once again feature label mate Devin Dawson as special guest. The tour's first leg was a fan and critical favorite alike, with the The Toledo Blade stating that Eldredge cemented his "headliner status" with a memorable show where he was "doing what he was born to do." Additionally, the Waterbury Republican American praised that Eldredge "did not disappoint with his timeless voice." Fans can get an inside glimpse into The Long Way Tour's spring leg, which concluded Saturday May 5 at New York City's Hammerstein Ballroom, with a recap video. Watch HERE.
Eldredge's most recent single, and namesake for the tour, "The Long Way" climbed to #2 on the country radio charts while simultaneously boasting nearly 30 million streams. PEOPLE Magazine noted "the bubbling synths on the slow-burning ballad" while Billboard declared that the single "…makes you wish he was singing to you." The single comes from the singer / songwriter's recently released self-titled record, which marked his second chart-topping country album and hit No. 1 on the Top Album Sales Chart upon release.
Before hitting the road in the spring for his headlining dates, Eldredge joined Blake Shelton in February for the Country Music Freaks Tour alongside Carly Pearce and Trace Adkins.
BRETT ELDREDGE THE LONG WAY TOUR FALL 2018 DATES:
| | | |
| --- | --- | --- |
| Date | City | Venue |
| September 13 | Denver, CO | Bellco Theatre |
| September 14 | Council Bluffs, IA | WestFair Amphitheatre |
| September 15 | Kansas City, MO | Providence Medical Center Amp (KBEQ Yallapalooza) |
| September 20 | Puyallup, WA | Washington State Fair |
| September 21 | Kennewick,WA | Toyota Center |
| September 22 | Sun Valley, ID | Sun Valley Pavilion |
| September 28 | Cleveland, OH | Jacob's Pavilion at Nautica |
| September 29 | Bloomsburg, PA | The Bloomsburg Fair |
| October 4 | Southaven, MS | Landers Center |
| October 5 | St. Louis, MO | Peabody Opera House |
| October 11 | Kingston, RI | Ryan Center |
| October 13 | Manchester, NH | SNHU Arena |
| October 18 | Orlando, FL | Dr. Phillips Center |
| October 19 | Boca Raton, FL | Mizner Park Amphitheatre |
Live Nation is the official promoter for The Long Way Tour. Fans can purchase tickets by visiting bretteldredge.com/tour.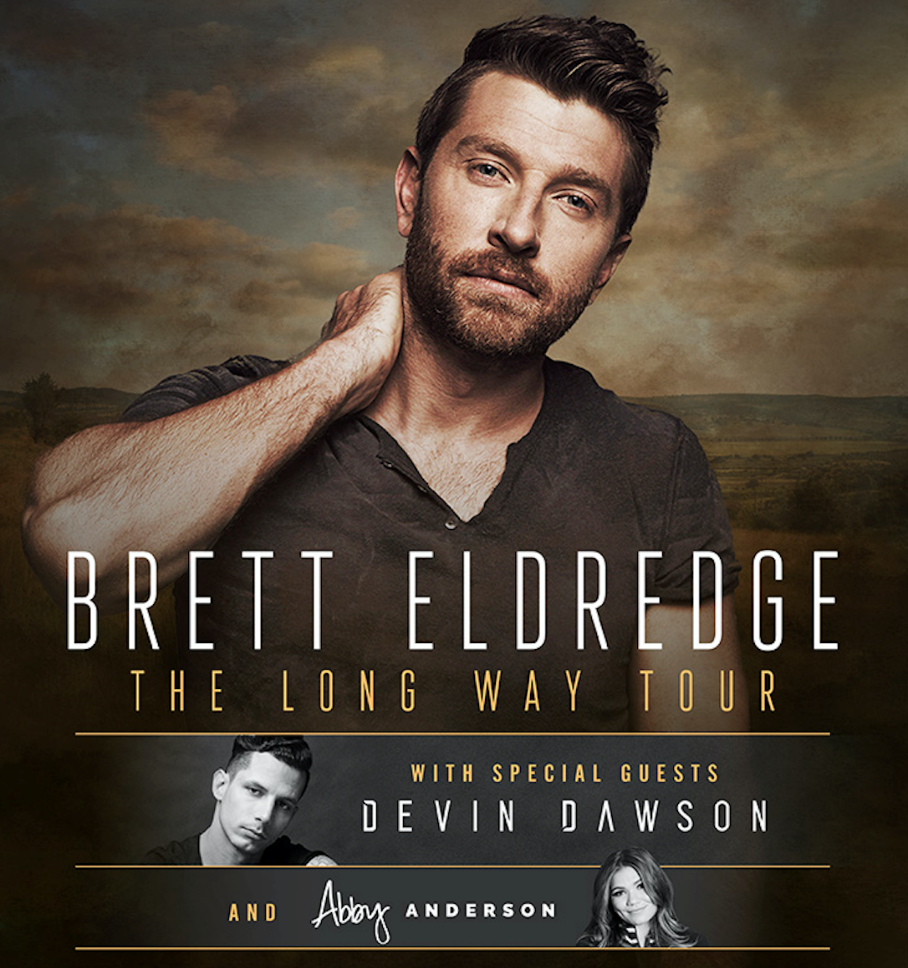 ABOUT BRETT ELDREDGE:
Platinum-selling singer/songwriter Brett Eldredge recently released his brand new single "The Long Way" from his self-titled record, which was the best-selling album (all-genre) upon release and hit No. 1 on the Billboard Country Albums Chart and the Top Album Sales Chart. "The Long Way," which he performed on both TODAY and The Tonight Show Starring Jimmy Fallon in August, follows Eldredge's six chart-topping singles including his most recent, "Wanna Be That Song." His sophomore album Illinois debuted at No. 1 on the Billboard Country Albums Chart and No. 3 on the Billboard Top 200 Chart upon its release, and it features the Platinum-certified mega hit "Drunk On Your Love" and Gold-certified "Lose My Mind."
The Paris, IL native released his Christmas album Glow in October of last year, which earned him No. 1 song on the Holiday Music and Adult Contemporary charts with "Baby It's Cold Outside," a duet with Grammy-winner Meghan Trainor. Eldredge's 2013 debut album Bring You Back spawned three chart-topping singles including the Platinum-certified "Don't Ya," the Gold-certified "Beat of the Music," which was the most played country song of 2014, and the Gold-certified "Mean To Me."
For more information: Facebook // Twitter // Instagram // Spotify // Website
ABOUT ABBY ANDERSON:
Already named one of CMT's Next Women of Country for 2018 and a CMT Listen Up Artist – #18for2018, the industry is taking notice of Abby Anderson with Pandora naming her as one of "2018 Country Artists to Watch" and The Boot listing her among their "2018 Artists to Watch." Hailing from Dallas, Texas, singer/songwriter Abby Anderson finished school early and moved to Nashville at 17 years old to chase her dream of a career in music. Upon arriving in Music City, Anderson began paying her dues by playing gigs in local favorites, including The Bluebird Café, The Listening Room Café, and the Tin Roof, while working as a nanny. Her hard work and perseverance paid off a few years later as Anderson was surprised by Black River Entertainment with a publishing and record deal during a charity event at the Ryman Auditorium. In September 2017, Anderson performed the National Anthem kicking off the NFL's Buffalo Bills vs. Denver Broncos game, as well as most recently at The American Rodeo at the AT&T Stadium in February 2018. Fans can get a sneak peek of that weekend in Buffalo, New York. Anderson is currently visiting Country radio stations nationwide on her promo tour in support of her debut single. Inspired by the values instilled in her while growing up in Texas, "Make Him Wait" (written by Anderson, Tom Douglas, and Josh Kerr; produced by Kerr) is digitally available everywhere. With more than 5 million streams total in just 8 months, Anderson's music has been creating quite the buzz. In 2018, she will open for some of Country's newest acts including Russell Dickerson and Chase Rice, and this fall, she will be on the road opening for Brett Eldredge and Devin Dawson on the fall leg of The Long Way Tour.
To stay updated on Abby Anderson, follow her on Facebook, Twitter and Instagram.
ABOUT DEVIN DAWSON:
Since the release of Devin Dawson's debut single "All On Me" earlier this year, the California-native has already made his TV debut on Late Night with Seth Meyers, landed his first Grand Ole Opry performance and most recently was named a 2018 Pandora "Country Artist to Watch." He has already received critical praise from a multitude of outlets including Entertainment Tonight, ELLE, People, Entertainment Weekly, Rolling Stone, The Tennessean, HITS Magazine and more. An atypical country artist, Dawson's approach to music is not different on purpose, it's different with purpose. He grew up just outside the gates of Folsom Prison, drawing inspiration from Johnny Cash, Alan Jackson, Marvin Gaye and Creedence Clearwater Revival. Pulling from these influences, he began to write in a style that is definitively country. Dawson's lyrics full of romance and vulnerability, delivered with a distinctive saw-toothed vocal, draw you in from the first verse and keep you hooked until the very last chord. His unique mix of organic roots and high-voltage country is showcased masterfully on his forthcoming debut Dark Horse, produced by the daring Jay Joyce (Eric Church, Little Big Town, Brothers Osborne). With a co-write credit on every track, the result will further establish Dawson's building reputation as a dark horse set to emerge as one of the most exciting modern storytellers the format has ever seen.