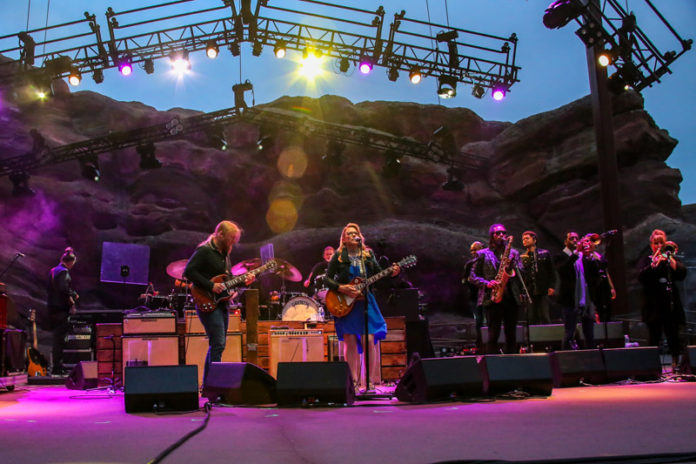 The Wheels of Soul Tour made it's final stop at Red Rocks in Morrison, CO, this weekend. Featuring Tedeschi Trucks Band, and supported by The Marcus King Band and Drive-By Truckers, sold out the venue on Saturday and came close to capacity on Sunday. 
The Marcus King Band didn't quite steal the show, but he gained 9,000+ fans that attended the Wheels Of Soul Tour at Red Rocks on Sunday night. Marcus King, the twenty-one year old phenome out of Greenville, SC, amazed the nearly sold-out crowd with his stellar guitar playing and righteous Psychedelic Southern Rock Blues. The Marcus King band had Marcus King front and center on guitar and vocals, Jack Ryan on Drums, Stephen Campbell on Bass, Justin Johnson on Trumpet, Trombone, Background Vocals and Tambourine,  Dean Mitchell on Saxophones, and Deshawn Alexander on Organ and Keyboards. King mentioned that he'll be back around Denver sometime, and we'll be on the lookout. Check The Marcus King Band website, marcuskingband.com,  for more information. See more pictures on the slideshow. 
Drive-By Truckers, from Athens, GA, have been playing together for over twenty years. Their theme was "Love Everybody". Drive-By Truckers empowered fans with their Alt-Country, Southern Rock, sounds. Original members Mike Cooley & Patterson Hood led the band on vocals and guitar and were supported by Brad Morgan on Drums, Jay Gonzalez on Keys, Guitar, Accordion, and Backing Vocals, and Matt Patton on Bass Guitar and Backing Vocals. Keep up to date with DBT, by visiting their website, www.drivebytruckers.com.
See more pictures on the slideshow.
The Tedeschi Trucks Band, touring out of Jacksonville, FL, featured Derek Trucks on Guitar and Susan Tedeschi on Guitar and Vocals. Tedeschi Trucks Band had their exceptional 12-piece band for hosting a Rock, Blues and Jazz party on Sunday night. Also in the band were Kofi Burbridge on Keys & Flute, Tyler Greenwell on Drums, JJ Johnson on Drums, Mike Mattison on Backing Vocals, Mark Rivers on Backing Vocals, Alecia Chakour on Backing Vocals, Tim Lefebvre on Bass, Kebbi Williams on Saxophone, Elizabeth Lea on Trombone, and Ephraim Owens on Trumpet. 
Starting their set with Statesboro Blues, Tedeschi Trucks Band took listeners on a ride they won't forget.  They continued the show with Get What You Deserve, and All That I Need. Find the full set list in the slideshow.
Track Tedeschi Trucks on their website, www.TedeschiTrucksBand.com.  
Read more about Tedeschi Trucks Band and what they'll be up to after the Wheels Of Soul Tour.
Previous coverage: 7/29/17 Wheels of Soul Tour; Tedeschi Trucks Band, The Wood Brothers and Hot Tuna at Red Rocks