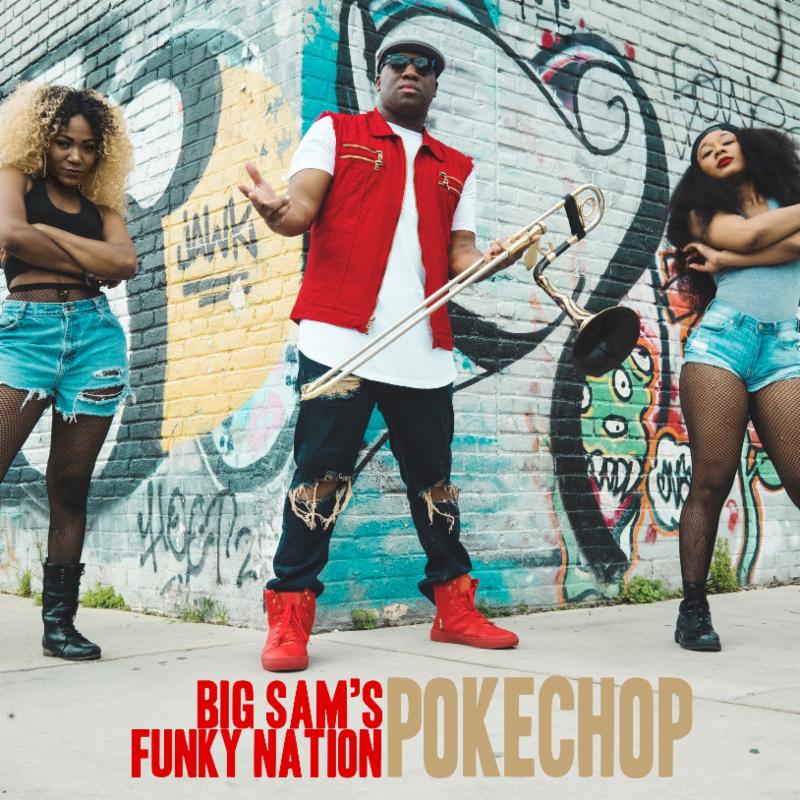 New Orleans-based funk band Big Sam's Funky Nation release the video for their new track "PokeChop".The lively and colorful video on the streets of New Orleans is the perfect companion to the song's simmering beat punctuated by seventies-style synths that give way to lively horns, handclaps and howls. "PokeChop" is off the band's upcoming album Songs in the Key of Funk to be released on May 4, 2018 tying into their performance at the New Orleans Jazz & Heritage Festival. PRESS HERE to watch and PRESS HERE to pre-order the album.
"I wanted the video to reflect the song. The dancing, the colors, the vibe… everything is how it should be. This is my first video ever, so I'm pretty excited about it! Funk is well & alive!" – Big Sam
Big Sam's Funky Nation recently released their first track "Buzzin,'" off the upcoming album which premiered on Relix. The song shimmies from talkbox into swaggering clean guitars, all while painting a vivid picture of hot and heavy love at first sight on the dance floor. PRESS HERE to listen.
Against the backdrop of Crescent City, Big Sam's Funky Nation released five fan favorite albums and quietly developed a devout following. Powered by jaw-dropping technical talent and uncontainable energy on stage, their performances have become the stuff of legend. Big Sam ensures you're not just a part of the crowd, but "a part of the show dancing and singing along."Beyond standout sets at the likes of Voodoo Music + Experience and New Orleans Jazz & Heritage Festival, the band has performed at Bonnaroo, SXSW, and Austin City Limits, to name a few.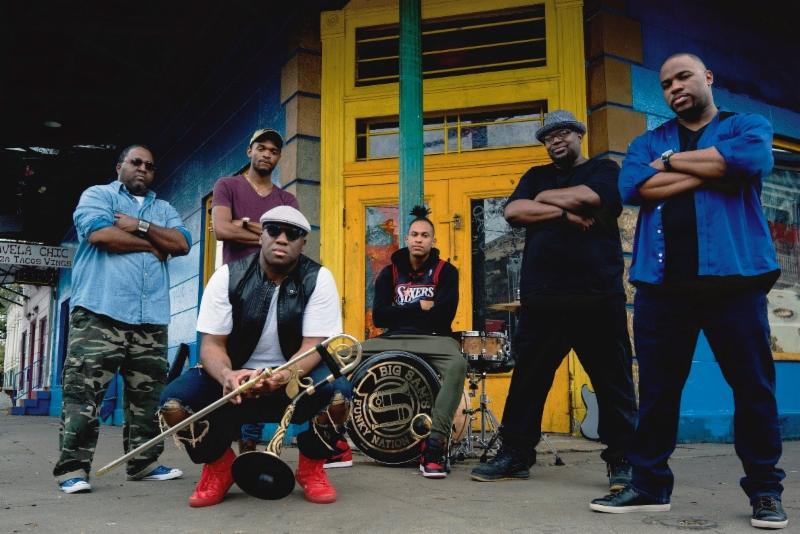 photo credit: Willow Haley
"Big Sam" Williams (trombone, lead vocals), Drew Baham (trumpet, vocals), Jerry Henderson(bass), Keenan McRae (guitar), Alfred Jordan (drums), and Kendrick Marshall (keys) are also gearing up to go on tour and are performing at various festivals this summer.
Stay tuned for more new music and in the meantime, for more info on Big Sam's Funky Nation, please visit www.bigsamsfunkynation.com
Upcoming Shows
April 20                 Dallas, TX @ The Kessler
April 21                 Austin, TX @ Antone's
April 25                 New Orleans, LA @ Wednesday At The Square
May 3                    New Orleans, LA @ New Orleans Jazz and Heritage Festival
May 4                    New Orleans, LA @ Blue Nile (CD Release Party)
May 7                    New Orleans, LA @ Maple Leaf
May 11                 Covington, LA @ Columbia Street Tap Room
May 16                 Hermosa Beach, CA @ Saint Rocke
May 17                 Las Vegas, NV @ Brooklyn Bowl
May 18                 San Diego, CA @ Winston's Beach Club
May 19                 San Luis Obispo, CA @ SLO Jazz Festival
May 21                 Irving, TX @ Big Beat Dallas
May 23                 Mobile, AL @ The Merry Widow
May 24                 Gainesville, FL @ High Dive
May 25                 Tampa, FL @ Crowbar Live Music
May 26                 Boca Raton, FL @ The Funky Biscuit
May 27                 Jacksonville, FL @ 1904 Music Hall
June 1                   Amagansett, NY @ The Stephen Talkhouse
June 2-3               Augusta, NJ @ Michael Arnone's Crawfish Festival
June 7                   Charlotte, NC @ River Jam – U.S. Whitewater Center
June 8                   Durham, NC @ Motorco Music Hall
June 9                   Asheville, NC @ Xpand Fest
June 15                 Albuquerque, NM @ ABQ BioPark Zoo
June 16                 Taos, NM @ Taos Mesa Brewing
June 22                 Norfolk, VA @ Bayou Boogaloo & Cajun Festival
June 23                 Washington, DC @ The Hamilton Live
June 24                 Pittsburgh, PA @ Jergels
June 26                 Ann Arbor, MI @ Ann Arbor Summer Festival
July 4                     Nederland, CO @ Caribou Room
July 5                     Denver, CO @ Globe Hall
July 6                     Telluride, CO @ Sheridan Opera House
July 7                     Basalt, CO @ The Temporary
July 12                   Tyler, TX @ Stanley's Famous Pit Barbecue
July 13                   Arlington, TX @ Levitt Pavilion for the Performing Arts
Aug 3                     San Francisco, CA @ The Independent
Aug 4                     Mammoth Lakes, CA @ Mammoth Festival of Beers and Bluesapalooza
Aug 6                     Portland, OR @ Mississippi Studios
Aug 7                     Seattle, WA @ Nectar Lounge
Aug 8                     Bend, OR @ Volcanic Theatre Pub
Aug 10                   Crystal Bay, NV @ Crystal Bay Club
Aug 11                   Belden, CA @ For The Funk of it Fest
Aug 12                   San Jose, CA @ San Jose Jazz Summer Fest
Aug 18                   Salem, MA @ Salem Jazz and Soul Festival
Aug 19                   South Burlington, VT @ Showcase Lounge
Aug 23                   Hartford, CT @ Infinity Music Hall
Aug 24                   Holyoke, MA @ Gateway City Arts
Aug 31-Sept 1      Charleston, RI @ Rhythm and Roots Festival
Sept 2                    Westport, CT @ Levitt Pavilion for the Performing Arts
Sept 13                  Evanston, IL @ SPACE
Sept 14                  St. Louis, MO @ Old Rock House
Sept 15                  Lawrence, KS @ Lied Center of Kansas
Sept 21                  Atlanta, GA @ Venkman's
Sept 22                  Charleston, SC @ The Charleston Pour House
Sept 28-Oct 1       Queensland, Australia @ Caloundra Music Festival
Nov 11                   Stillwater, OK @ Oklahoma State University