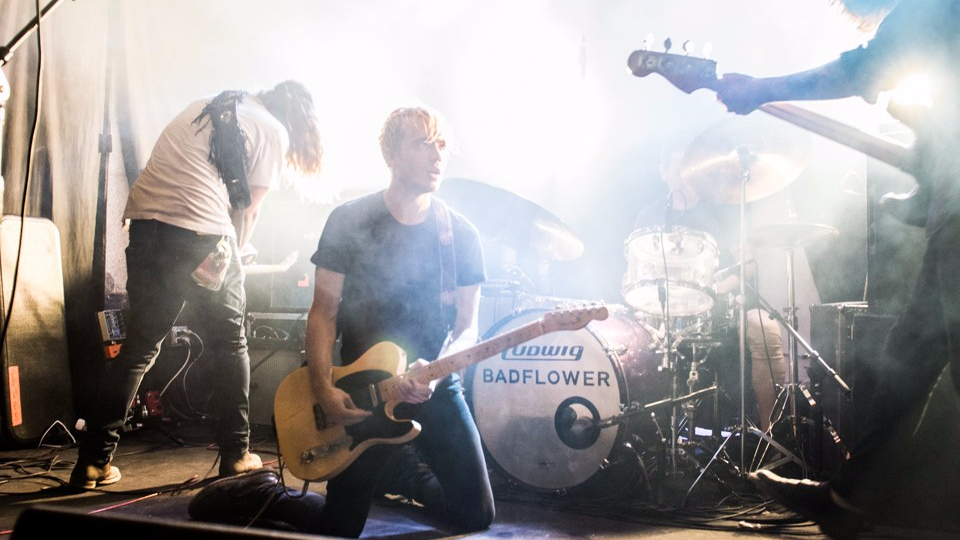 Modern rockband Badflower is on the rise and currently touring with Goodbye June this summer. Soon to be hitting all the major rock festivals, there are complexities on and off stage, as this new band finds their way. From the hustle of getting started, setbacks like stolen gear, and current struggles within the band dynamic, Badflower is persevering and proving to be stronger than ever.
By Veronica Lee
A squelching heatwave has thrust Colorado into the depths of summer, where mid-June feels like August and people are out and about. Summer is the epitome of tour season and the music venues and event spaces all across town are vamping up the air conditioning in preparation of packed houses of rowdy crowds. In the light of day, Globe Hall is a modest doorway in Globeville that may deceptively appear not to promise a lot. Set on the corner of 45th and Logan, the area is mostly residential, yet is beginning the process of Denver's gentrification epidemic. Still holding its charm of a pocket untouched, today this quiet neighborhood radiates. Parked behind Globe Hall are a couple of vans, attached with small trailers, but not a lot of activity. It's behind a closed wooden fence where a buzz and vibe is brewing. Musicians sit around a circle in lawn chairs and picnic tables, shooting the shit and waiting for the call to take the stage. An Airstream trailer is used as the greenroom of this modest sized "backyard" and offers a cozy and intimate space for conversation on life, both success and struggle.
As band members of Badflower pile in and take position on the patterned, padded bench seats, there is a sense of unity, for these guys have been through a lot. Los Angeles based Badflower is Josh Katz (lead vocals, guitar), Joey Morrow (lead guitar, vocals) Alex Espiritu (bass) and Anthony Sonetti (drums). The foursome have been on the road, sleeping in their modest van in Walmart parking lots or the occasional hotel room, since the beginning of January. Starting out as a small tour and festival schedule to promote the release of the album Temper, under the label Republic Records, the success of the band has been continuing to grow wwith dates have being added into what feels like infinity. Globe Hall is a pit stop in the journey of Badflower making their way from their hometown of LA back across the country to the East Coast and this tour has been met with some major challenges.
While hitting their hometown of LA in early June, and playing to a packed house of fans and friends, the tour van was broken in to. The window was shattered and wallets, backpacks, instruments and computers with personal photos as well as band recordings was stolen. They were forced to cancel two dates directly following the incident while they regrouped and replenished supplies. "We have awesome insurance and an awesome record label, so we were very taken care of," Josh explains. The guys, understandably upset about the taken equipment, were mostly concerned about fans getting reimbursed for their ticket sales to the cancelled shows. They were grateful that it happened at home, though, and on the bright side it offered a few extra days for them to be able to rest and gather themselves. However, they were back at it within a couple of days and continued the tour, despite some of the losses.
The genesis of Badflower began with founding members Josh and Joey collaborating together about 6 years ago. After a few stints of making music under different monikers and formations, Badflower came to fruition and members Alex and Anthony were added. The band released their first EP in 2015 with the lead single, "Soap", which was met with immediate attention and praise. Opening for bigger acts, they toured Europe and Australia, as well as continued focus of fan growth right here in The States. They went through an indie label and at last signed with Republic Records to release their full-length album, Temper, in 2016. They had management and representation and no longer had to micromanage every part of the business. With the attention, the momentum of the band in 2017 has pushed them from a walk to a full-on sprint. "This year, we've been working since January and have had maybe three or four weeks off, spread out," Anthony explains, and the hustle has become somewhat exhausting.
A stark contrast between what life was like in 2013, pre-Soap, and what it is now. A complete shift is in full swing, instead of the band being responsible for submitting for festivals and shows, in hopes they will get a chance, Badflower is now being sought after to be added to some big lineups. "Now we have options with everything, there is a demand for what we do so we get booked," Josh explains. Over the summer, they will be playing in festivals and shows with bands such as Korn, Rob Zombie, and Avenged Sevenfold, just to name a few. They will also be returning to Englewood's Fiddler's Green Amphitheater in September with the High Elevation Rock Festival. The biggest difference now, though, is that they feel like people care about the music. They can look out into the audience, amongst the blinding lights and fog machines, and see fans singing along to their music. It's still something they are getting used to, "Some of these songs we've had for like 6 years or longer," Josh explains, and Joey adds "It's funny because it's new to them, and for us it's so old!" Josh goes on, "now that we get to play it in front of a crowd that sings it back, it's very rewarding."
Heroine, the latest single, has been reworked into a "Rock Edit", aka easier for radio play. Mainstream media tends to play a heavy hand in what is expected of a song structurally, and even visually. Badflower is currently creating a video and "intense" is the word that the band uses to describe what can be expected of the vide. Josh goes on to explain, "The record label is trying to censor us, and we're doing our best not to be censored." While the band feels supported and even encouraged by Republic Records to release the content their way, sometimes the legality of things is what stands in the way of true vision execution. "The legal department sometimes has issues with some very particular things but the label has always been on our side with everything," Josh explains. He then continues, "There's a little bit of a shock value to the piece but it's also just kind of an unconventional love story and I think it's really beautiful and I'm really excited to put it out." The conversation then leads to jokes about butts and censoring the fact that Badflower may have an entirely new meaning than originally thought, and all share a laugh.
There is a strong sense of camaraderie within the band, they support one another individually on and off stage. In this moment, Josh opens up about some struggles he personally has been facing during this tour, and in fact, something that he has been dealing with throughout his life. "The tour is going really well, for everyone except me. I have panic disorder, and I'm suffering," he confides. Panic disorder is defined by recurring unexpected panic attacks, and the American Psychological Association reports that 1 out of every 75 people might experience a panic disorder. It's at the point where Josh exists almost in a state of fear, not knowing if or when a panic attack may hit. "Every show has been a struggle, and is progressively getting worse," he explains.  Starting in his late teens/early twenties, there was an extreme low point for Josh, yet it was something he thought he had overcome. Until their last tour, the symptoms started to slowly reappear.
And while Josh's struggle is not something to be desired, this is actually what the band stands for, in a way; genuine vulnerability. Taking exactly where they are in their lives, right now, and applying those emotions to their songwriting, followed by deeply exuding every bit of that energy and vulnerability on stage. The main motivator is to continually provide an experience for the fans that is unique and one of a kind, guaranteed. "You're never going to get something contrive or overly rehearsed or boring," Josh states confidently.
The night before their stop here in Denver, the band experienced a first-time event and had to think quickly on their feet. Josh had a panic attack right on stage and had to quickly exit. Joey stepped in on vocals while he, Alex, and Anthony finished the song. With a rather alarming and unsure situation as that, the dynamic in the group is shifting and uncertain in some ways. However, there is a sense of strong support running parallel alongside the slight tension. "It was a good time to do it though, in the song, because it was pretty much the outro," Anthony points out, reassuring that they are all in this together. It's clear that these new and uncharted waters are something that everyone is figuring out and they all know it can't be planned, but now it's something they are prepared for.
"I'm kind of surprised that, not that none of us panic except for you," Joey says to Josh, "but that none of us go crazy. We live in this van, we've been out since early January, sleeping in parking lots… shower whenever you can, doing the same set every night. Everything seems so routine, it's a wonder none of us go absolutely nuts after a while." Josh shares that it's easy to go into autopilot mode and Anthony agrees, saying "it's easy to start thinking about the wrong things." In addition, add into the mix the lifestyle of what they do for a living, Josh explains how that's actually a very real part of the struggle. "I never thought this would be the case with us, because we are a pretty good group of kids that don't really get into trouble, but the rock and roll lifestyle does happen. You're out for a while and you meet people, and there's drugs and parties and girls, and I never thought we were susceptible to that kind of thing but then that can also really fuck the whole dynamic up."
The band is really at a point where they are having to decide which direction to take things, and none of them are ready or willing to jeopardize the work they've done and the momentum they've got going. "I'm on to kale now and off the booze," Joey laughs. Self-care has really taken priority above most else, especially after what felt like a wake-up call the night before. Anthony had a massage earlier in the day, Alex took time to do laundry, Joey spent the afternoon with his girlfriend who was in town, and Joey took a hot yoga class. As they chomp on their dinner salads and offer a big shout out to the deliciously fresh Denver favorite City-o-City, the Colorado dry elevation forces them to guzzle down bottles of water as a reset in order to continue the long haul of the hustle. Perusing through their current schedule of upcoming shows and festivals, Badflower is already booked through the summer and into early October. Sustainability through vitamins, rest, and stretching, are what the band feels are required right now.
Ultimately, being amongst friends, is what the band feels like when sharing space with them. Fun facts came up like Anthony's full name has seven letters in each; Anthony Michael Sonetti, and Joey was forced to quit his baseball team in high school because he refused to cut his hair. Alex was the most reserved and quiet, offering a few quips and insights around Catholic school and leaving before confirmation. Topics of religion and spirituality were explored and opinions on organized religion were strong, yet ultimately, the fact is these guys are a tight-knit and down to earth group of talented musicians doing what they love and finding their way in the world.
After parting ways, the band indulged in their pre-show rituals of stretching and 100 mini-jumps to ramp up the energy, and arrived on stage to do what they do best. Playing an intensely passionate and emotive collection of heavy rock songs, this live show did not disappoint. Confidently executing their hit songs like "Animal" and "Soap" to a craving and excited audience, they also offered intensely personal and grabbing songs like "The Jester" and the full-length version of "Heroine." On stage, these guys are on fire, and prove that Badflower is not just an up and coming band but a band to quickly get on radar, watch and support. Vocally, Josh draws the audience into their world and keeps them clutching to every note. Joey, on lead guitar, is vigilant in his expertise and massive shredding skills. Alex keeps the energy high on bass with his stage presence and infectious foot stomping beats. And 7-letter Anthony doesn't hide behind the drum-kit but rather commands it and leads the band through the journey of conquering their cultivating rock aesthetic.
Each member holds their own on stage and their charisma and melodies are entrancing. The music, though, speaks for itself, and is phenomenal. While they are working through some intense things off stage, these guys come together and put on a hell of a show. These times are simply a part of the story of Badflower, and as the fan base grows and the hustle continues, this is truly just the beginning for Josh, Joey, Alex and Anthony.
See the slideshow of Badflower at Globe Hall with Goodbye June and Cutthroat Drifters HERE!