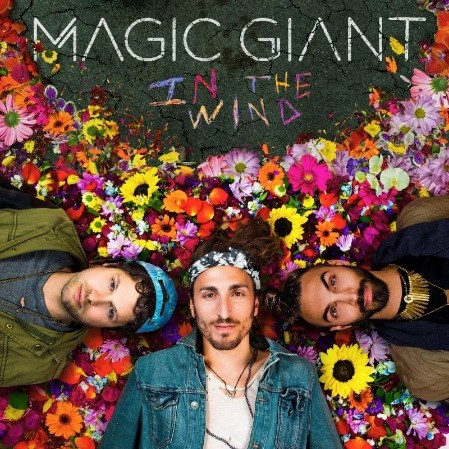 Today, LA-based alt-folk trio, Magic Giant, premiered their debut album, In the Wind via PopMatters – PRESS HERE to listen. In the Wind will be available for sale this Friday, May 19 via Washington Square/Razor & Tie. The album was co-produced with Ben Allen (Walk the Moon, MIA, Gnarls Barkley, Animal Collective). The band will be performing their single "Set on Fire" on TODAY on NBC this Wednesday, May 17. They will also be revealing the video for "Great Divide" via the TODAY website on Wednesday – stay tuned.
Magic Giant will be launching a onetreeplanted.org campaign on May 17- the band will plant a tree for every presale album purchased from May 17 – 19, and after the album comes out, they will plant one tree for every physical CD sold on tour. On the campaign, Magic Giant said, "We do our best as a band to be eco-conscious. This is just one way in which we can give back to our planet."
Magic Giant has just kicked off their In the Wind tour, with shows in San Francisco, New York City, Washington DC and more. They will also be playing at various music festivals including Sun Drenched Music Festival, LaureLive Festival, Firefly Music Festival, RiSE Festival, and more. Arroyo Seco Festival and Ribfest have just been added to Magic Giant's In the Wind tour dates.
To date, "Set on Fire," has amassed over 4 million streams in less than one year, and reached #4 on Spotify's US Viral 50. PRESS HERE to watch the official music video to "Set on Fire" and PRESS HERE to watch the acoustic video. Magic Giant is ALT987's Los Angeles Artist in Residence for the month of May, 2017 are now no. 38 on Alternative Radio chart as of May 3, 2017. To pre-order In the Wind – PRESS HERE, and PRESS HERE to pre-order the CD and merchandise bundle from Magic Giant's website.
In the Wind 2017 Tour Dates:
May 19 – Santa Ana, CA @ The Constellation Room
May 20 – San Diego CA @ The Casbah
May 22 – Los Angeles, CA @ School Night at Bardot
May 27 – St. Petersburg, FL @ 97x BBQ at Vinoy Park
June 3 – Denver, CO @ Sun Drenched Festival
June 4 – Wichita, KS @ Wichita Riverfest
June 6 – Kansas City, MO @ The Riot Room
June 7 – St. Louis, MO @ The Duck Room at Blueberry Hill
June 9 – Chicago, IL @ Ribfest
June 10 – Ann Arbor, MI @ Ann Arbor Summer Festival
June 11 – Cleveland, OH @ LaureLive Festival
June 13 – Columbus, OH @ The Basement
June 17 – Dover, DE @ Firefly Festival
June 20 – New York, NY @ Bowery Ballroom
June 21 – Philadelphia, PA @ Johnny Brenda's
June 22 – Washington, DC @ Rock & Roll Hotel
June 25 – Pasadena, CA @ Arroyo Seco Festival
June 27 – Asbury Park, NJ @ Wonder Bar
June 28 – Boston, MA @ The Red Room at Cafe 939
June 30 & July 1 – Pembroke, ON @ Emerge Festival
July 14 – Fresno, CA @ Strummer's
July 15 & 16 – Grass Valley, CA @ California WorldFest
July 19 – Boise, ID @ Alive After Five
July 21 – Vancouver, BC @ The Fox Cabaret
July 22 – Seattle, WA @ Capitol Hill Block Party
July 23 – Portland, OR @ Lola's Room
July 25 – Napa, CA @ Silo's
July 29 – Barrie, ON @ WayHome Festival
August 18 – Pullman, WA @ National Lentil Festival
August 19 – Long Beach, CA @ Alt 98.7 Summer Camp
August 26 – Littleton, CO @ Breckenridge Brewery
October 6 & 7 – Moapa, NV @ RiSE Festival