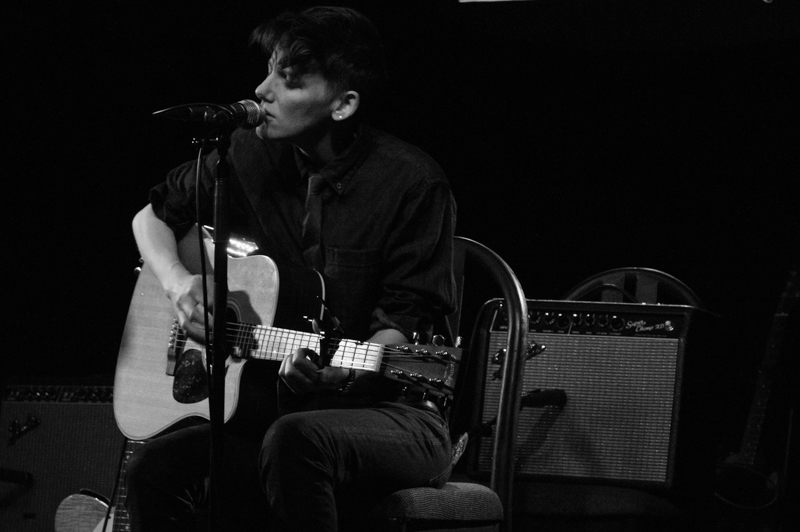 Chris Pureka has an impressive resume, spanning over 10 years with 4 full-length records under her belt, she has toured the world and managed to keep her humbled charm and grace in tact. She recently made a stop here in Denver at The Soiled Dove Underground and told us about songwriting, being her own boss, and what she does with her very limited time off.
By Veronica Lee
Watching Chris Pureka on stage, you'd never take her for the extreme introvert she labels herself as. Easily breaking the ice with a charming line and a sideways smirk, Pureka takes a seat under the spotlight and all eyes and ears are at attention.  With the room in quiet in anticipation, The Soiled Dove Underground is a beautiful and extremely appropriate place for her vulnerabilities. She takes a moment and warmly invites audience members in the back of the house to come closer and take the few open seats towards the front of the stage. The intimate room gets even smaller and this is where Chris Pureka, pristine performer, is captivating. Welcoming the adoration she has worked over the years to earn, this is where her songs and stories come to life.
For a touring musician, the road is long and hard, literally. Endless flights and driving from one city to the next, early load ins and late night load outs, rarely being in one city for more than a couple nights, this is the life that Pureka has grown accustomed to. "Pretty much, I release a record, and then the whole year after the record comes out we're touring very extensively," she explains. Just this year alone the plan is to wrap up a mini West Coast tour in Seattle over the weekend, head to the East Coast for concert dates that will take her through the end of May, and then embark on the European leg in June. Being home in Portland for more than a couple of months is a luxury that is rare, if ever. It is difficult to imagine not getting to the point of burn out or exhaustion rather quickly, and Pureka knows what is needed to keep herself and the music fresh for every single audience.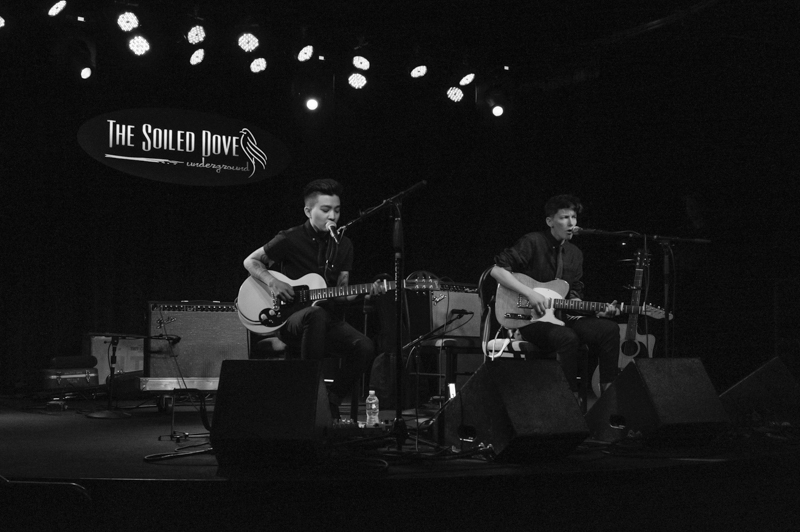 Sitting out back of the Soiled Dove Underground, the cool Spring breeze feels a bit harsh and rushed, but that couldn't be further from her demeanor. Curbside cool; a pressed button up and dark denim blue jeans, a long, skinny neck tie and a branded ballcap atop, Pureka is borderline timid yet relaxed next her tour vehicle, a blue Prius. Enjoying casual conversation as patrons passed by and restaurant bussers would lug out garbage to the dumpster nearby, there was no indie-rock pretentiousness here. She talked of having grown up in Connecticut, and then to a small town in Northern Massachusetts in her twenties before trying out New York City. She only lasted there a year and now resides in Portland, Oregon, and has been been there for the last four years with her pup. Pureka can't say enough how much she loves it, "I like the laid-back vibes of the west coast; growing up in New England, everything is busy, rushed and uptight. It's been nice getting away from that for a while." She goes on to say why Portland feels like such a great fit for her, "I really love to garden and I like to have space and privacy." When she experienced some down time, most recently, she even took a Master Gardener class for fun.
Pureka doesn't often get to enjoy the sanctuary of home, though, being on the road so much. Which, for a musician, is a good sign. She released her fourth full-length album, Back in The Ring, in 2016 and has seen great responses. "We were really busy last year and toured a ton," she tells. She then elaborates that this is the second time around to most of these cities this year so tonight will involve a much different set up than the first visit to Denver. Previously, she had toured with her full four-piece band, but instead tonight is choosing a more stripped down version to perform this time. "This year, we're going back and doing some smaller shows," which includes just the duo of herself and guitarist/vocalist Andy Alseri. The intimacy of the duo vs the full band setup really make a difference in terms of connecting to the audience and suits her music impeccably well. "I do think people really respond to the intimate vibe. A lot of my roots and my first three albums are pretty folky, so people want to see that more stripped down."
She puts a lot of thought and consideration into the live show, not just for herself to keep it interesting, but because she wants to give her fans a different experience every time. Pureka explains, "Every tour I'll rework a song or two, something older that we haven't been playing much, so it's not the exact same set at all. We usually do a cover, something people haven't heard. And the arrangements are different when it's more stripped down." She takes care in choosing covers to perform, songs that have an impactful meaning for her as well as providing the audience with something special. "I really like offering people different kinds of shows, especially if we are going to be playing the same places. I try really hard to make the shows unique."
The level of intimacy is just what Pureka is known for, not just in her lyrics or the acoustic lounge atmosphere she's playing, but she really shares parts of her life with her fans. Parts of herself, stories of what is going on or what was the inspiration behind each song, is offered in a comfortable confidence. Pureka knows that this is something that people have come to expect from a live show of hers, "People partly come out just to hear whatever stories or things that are going on or whatever I have to say about the songs." There is a community of fans, friends, and family that support her and know that her show is a must-see each time she is in town. And she did not disappoint at The Soiled Dove; she told funny stories of her and Andy's experience going to see a live taping of Ellen and a funny radio show interview that went awkwardly south. She even told the experience of how some songs came to be and parts of the touring cycle that she even had opportunities to learn about herself through her own fans.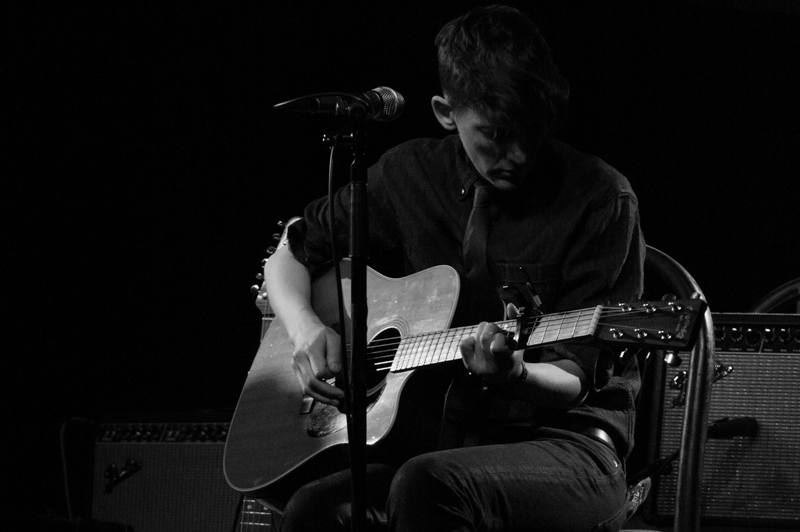 Back in The Ring is Pureka's most recent release, being one year ago today that it debuted. It tells stories of love and loss and getting the strength to move on. "I wrote about half of the album in New York and half of it in Portland, and then I recorded it in Portland," she tells and it came to fruition over the course of a few years and multiple changes in scenery. "I did a couple writing retreats; I went to a cabin a couple times and that worked really well for me," and on stage she even tells that is where the song Holy was written. "It definitely makes a difference if you put time aside. But then also there will be moments where I'm not feeling inspired or feeling more internal and not ready to express something, I'm processing something still, so it does have to be the right timing." Discipline vs Inspiration; can an artist force creativity or do they have to wait and strike when an idea hits? "I think there's an intersection of those two things," Pureka explains.
Because her songs offer a rather in depth glimpse into her life and what she may be going through or struggling with, more often than not that art is stemmed and created from a source of pain. One doesn't hope for an artist to be suffering in order to be able to create, but often times that's where relevant and personal content is incarnated from. What happens when it's time for Pureka to write, but things are going really well? "I think there's always historical things that you can tap in to… I remember a couple records ago when I was in a really good place and I was really trying to finish a record. I was like 'What am I going to write about?' and I wrote some songs that I really love. That are less about specific things and more general, I really like that about them. I think it's sort of an opportunity to go a little deeper and a little broader."
She also recently wrote a song for her friends' wedding last year, that she performed at The Soiled Dove, and may end up recording in the future. And even, on occasion, she will enter the political realm and finds those topics an interesting challenge to tackle, mostly due to the fact that it's hard to write about something that is so pressing in the now but will stand through time and still be a song that's relevant later. Hangman, for instance, from the 2010 release How I Learned to See In The Dark, is a song that she currently plays live and was written about one of the more recent human and societal wrongdoings of our own nation. She intelligently weaves in Louisiana themes with a melancholy slow draw of heart breaking lyrics, and yet one wouldn't assume that the song was about Hurricane Katrina. However, something that Pureka does so well, is transforming something that may seem applicable to one specific topic, and writing in a way that it can be applied to so many different areas.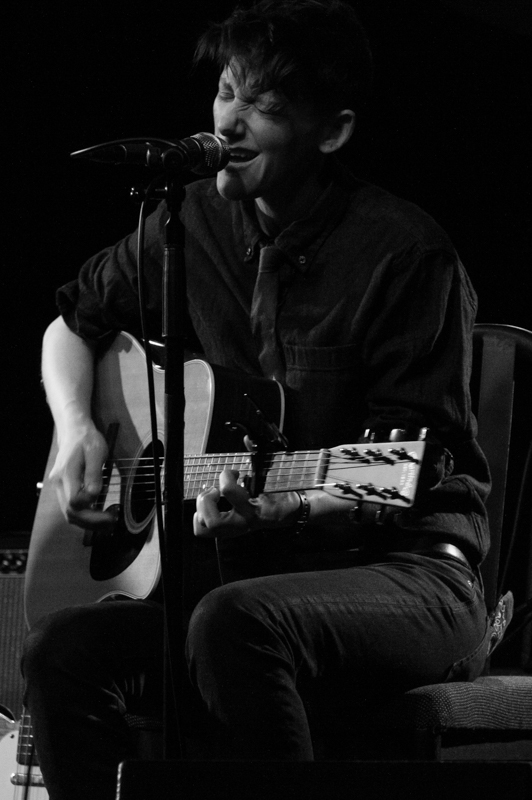 Being able to explore such diversity in her music, whether it's the topics that she writes about or the sonic aesthetic she produces, are reasons Pureka is grateful for the choices she made early on. Sad Rabbit Records, her independent record label, was established at the beginning of her making music. She has be self-releasing for the entirety of her career and remains in complete control over everything she puts out. Four full-length records and two EP's in addition to the latest release of a live album CD/DVD combo so far have made the roster of published material. She collaborates with a German record label for European releases and tours so they can coordinate and establish connections in all of her tours abroad, but that's basically the extent of outside support.
"I definitely don't want pressure. One of the things, for better or for worse, I'm just pretty slow at writing," Pureka explains, "I'm not interested in compromising about that. I don't want to feel pressure to have to put something out when I'm not ready and feel really rushed to finish a record. I'm definitely more for the artistic integrity of it." While she appreciates and enjoys having artistic freedom, from musical content and context down to album art, she does utilize professionals within the industry to do some of the other support work. "I have a booking agent, and then I have a manager that helps me with administrative stuff. When I release a record, I hire publicity to try and get press for things, sometimes I can hire a tour manager." She even rallies in support from family, "My dad does my finances for me, which is helpful. He's retired and doesn't mind. It's really helpful." There's no way around it, show business is just that, a business. While there are pros and cons of a lot of moving parts, she prefers to be in charge of it all.
She creates, she gardens, she travels, she has a strong support system of friends and family, Pureka seems pretty content with how life is these days. She doesn't pursue success in terms of quantity of radio singles and late night TV shows, big arena sold-out concerts or even taking a stand in the political arena. Those just aren't how she calculates success. Being a free artist to create her own music in her own timeline and play to the community of fans that rally behind Chris Pureka in every city she hits. That's what success looks and sounds like, and that's where she's happiest.
See the SLIDESHOW of Chris Pureka at The Soiled Dove Underground