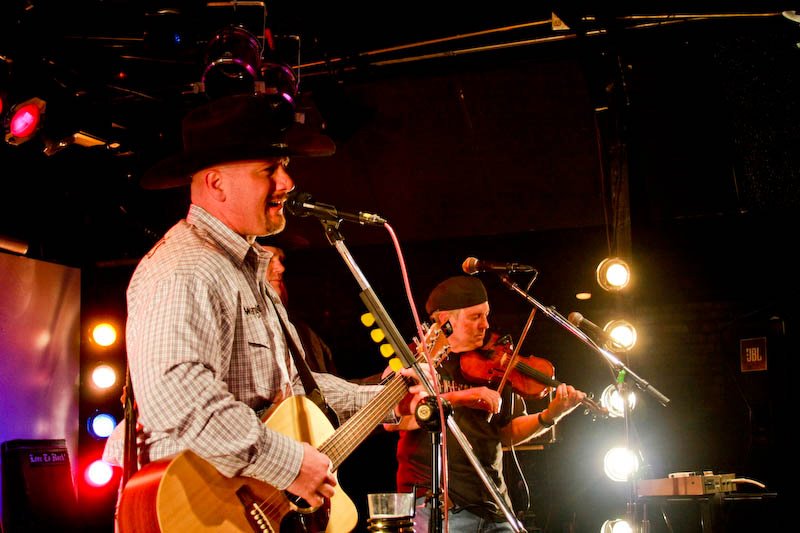 By Alan Sperry
Exit 2 is a Denver-based country band with a collection of talented characters. Touted as a band playing buckin' country, this group runs the gamut of rockin' country and ballads.
On Friday night at Jammin' Joes in Arvada, this team brought their A-game. Starting off with some of the high-speed and heavy hitting, Exit 2 rocked through their opener, Jason Aldean's Hicktown. Then they cruised through Dwight Yoakam's Little Sister.
Terry Runyan (lead vocals & acoustic guitar), is a humble baratone that has a powerful voice and an incredible capacity to write expressive lyrics. Sean Menard (drums), can beat the drums flawlessly and keeps the tempo pumping on the faster songs and supports more subtly on the slower tunes. Charlie Provenza (lead guitar), is an acclaimed musician that shines with his strong guitar-playing skills and his ability to connect with fans with his quick fingers and beaming smile. Chad Parsons (bass guitar), is a fierce talent that exceptionally plays the slower-tempo songs and can increase the intensity on the more rocking songs. John Parrott (fiddle & vocals), shows off his skills on every song and really glows when the band plays the fiddle-heavy song, Devil Went Down to Georgia.
Exit 2 skilfully mixes covers including, Boots On, Big Green Tractor, T-R-O-U-B-L-E, Waiting on a Woman, Am I the Only One, Hillbilly Deluxe, Copperhead Road, and originals including, Lay Your Gun Down, Havin' a Good Time, and Wine From a Box. Exit 2 is a good-time band that thoroughly brings the party to the stage. Playing 4 long sets gave the line-dancers an adequate workout and gave couples ample opportunity to get a little closer on the big dance floor.