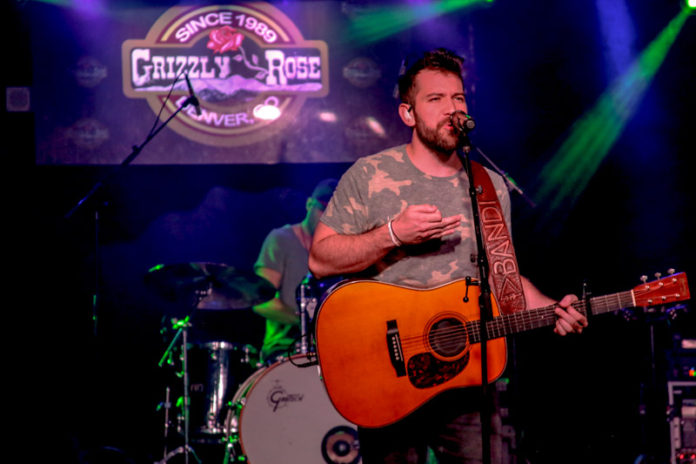 Out of Nashville, Chris Bandi brought his version of Pop-Country to the Grizzly Rose on Friday night. 
Bandi, originally from St. Louis, MO, has been featured in Entertainment Weekly, as Top Country Acts to Watch in 2018. It was Bandi's first go-around at the Grizzly Rose, and onlookers stayed away from the stage for the first few songs. But with a little encouragement and a cover of Steve Miller Band's Joker, dancers and potential new fans came closer to the stage to take part in the party that Bandi was hosting. He and his bandmates seemed to catch their groove and had a good time on stage, playing Bandi's singles early in the set, Gone Girl and Rain Man, and Man Enough Now(video) and Only One later in the show. Find the full set list in the slideshow. Joining Bandi on stage were Justin Rowton on bass, Ethan Burks on lead guitar, and Frank Legeay on drums. For more information on Chris Bandi, www.chrisbandi.com.
Based out of Kentucky and Nashville, Billy Brown Band show massive versatility as they opened the night with a talented display of rocking Country, with Southern Rock influences. Billy Brown also had John Christianson on drums, John Frisch on bass, and Nick Swan on lead guitar, as they also added in a few twists as they mashed up Country and Pop tunes. Billy Brown Band played Classic Country, including Family Tradition, and through a curve on Can't You See, mixing in a little Hey Jude. They also mashed together Justin Bieber's You Can Go Love Yourself with Sam Hunt's Body Like A Back Road. Versatile.
Never knowing what to expect, they'd also go tell you to F yourself, and sneak in a little Beastie Boys and used classic riffs from Smoke On The Water and Enter Sandman to open songs. Billy Brown Band kept things moving throughout their set, often ending one song and going right into the next. They also gave a shout-out to the military on their version of Jamey Johnson's song, In Color. Wow, you should've hear Billy Brown sing that in person. Talented.
Billy Brown also incorporated popular, more modern country songs as well, Country Girl (Shake It For Me) and Country Must Be Country Wide, and they weren't afraid to crank it up a bit with Copperhead Road, which helped get the line dancers get to the dancefloor, and The Cadillac Three's, The South. Billy Brown also began his set with an original tune, Middle Of A Country Night, mixed in another, Natural, and ended their show with She's My Girl(video).
See more photos on the slideshow.
This was Billy Brown's first stay in Denver and I doubt it will be the last. Check www.billybrowncountry.com for more information.