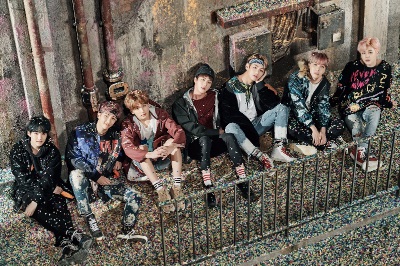 International K-popmusic phenomenon, BTS, with a new record out in Korea, is climbing the itunes chart hitting #8 with their new single, Spring Day.  Band is preparing their South American / US juggernaut of a tour in support of the release, which includes nine sold out stops including TWO shows in the NY area and two in the LA area, kicking off this March in Santiago, Chile and then heading to US shores for six dates.
With 117,000 tickets sold across all shows, this K-pop band continues their worldwide onslaught as they continue to grow taking the world by storm.
Their new album, a worldwide release today, Monday, February 13, entitled
WINGS/YOU NEVER WALK ALONE which includes 18 songs: 14 from a previous release called WINGS and 4 brand new songs written and produced by BTS members is already making waves internationally.
Click here to watch the BTS Video; Not Today
The album reached the top spot on the iTunes album charts in 13 countries. Countries include Armenia, Brunei, Finland, Indonesia, Kazakhstan, Malaysia, Peru, the Philippines, Singapore, Sweden, Taiwan, Thailand, and Vietnam.
The single "Spring Day" is also the first song by a K-Pop group to break into the top 10 on the iTunes songs chart in the United States.  Singer PSY previously reached No. 1 on the songs chart with "Gangnam Style," but BTS is the first group to make it into the top 10.
Their previous album, WINGS, premiered at #26 on the Billboard top 200, making BTS the first K-pop act have a record on the US charts for a period of two weeks in a row.  Their songs, sung completely in Korean broke language barriers other that other more well known artists have failed to crack.
In addition, in December of 2016, BTS led the Billboard Social 50 as the most retweeted artist, charting at #1 above Kanye West, Justin Bieber, Zayn Malik, and others.  With a following of over 4 million on that platform, BTS again leads among pop artists worldwide. 

Watch the BTS Video; Not Today
2017 BTS LIVE ON THE TRILOGY EPISODE III THE WINGS TOUR dates:
Sat 3/11
Santiago, Chile
Movistar Arena
SOLD OUT
Sun 3/12
Santiago, Chile
Movistar Arena NEWLY ADDED
Sun 3/19
Sao Paulo, Brazil
Citibank Hall SOLD OUT
Mon 3/20
Sao Paulo, Brazil
Citibank Hall SOLD OUT
Thu 3/23
Newark, NJ, USA
Prudential Center SOLD OUT
Fri 3/24
Newark, NJ, USA
Prudential Center SOLD OUT
Wed 3/29
Chicago, IL, USA
Allstate Arena SOLD OUT
Sat 4/1
Anaheim, CA, USA
Honda Center
SOLD OUT
Sun 4/2
Anaheim, CA, USA
Honda Center SOLD OUT
ABOUT BTS
Hailing from Korea, BTS formed in 2013 consisting of seven members, Rap Monster (Kim Namjun/Team Leader, Rapper), JIN (Kim Seokjin/Vocalist), SUGA (Min Yoonki/Rapper), J-HOPE (Jung Hoseok/Choreographer & Rapper), JIMIN (Park Jimin/Choreographer & Vocalist), V (Kim Taehyung/Vocalist) and JUNG KOOK (Jeon Jungkook/Vocalist, Rapper, Choreographer).  The band is part of the world-wide social phenomenon known as K-POP and are lead artists in the genre.  They have been featured in publications from Billboard to the Wall Street Journal to teen outlets worldwide.